1b Normandy

& Mayenne

La Normandie et la Mayenne
Includes the following French "departments" (counties):
14 Calvados, 27 Eure, 50 Manche, 53 Mayenne, 61 Orne, 76 Seine Maritime
Click on any link below for a detailed description of the property, with photos and prices
Cliquez sur un des liens ci-dessous pour un descriptif détaillé du gite, avec photos et tarifs

Website in English

Site en français
Website auf deutsch

Website in het Nederlands
Latest additions
New !

Normandy - Mayenne border. 53 + 3 gites: Le Cerisier (7 people) Le Pommier (6 people) La Chouette (2 people). For large groups we can also take up to 5 people in our house making a total of 20 people.

New !

Near Mont St.Michel. 50 Two-bedroom gite + b&b. Country location, situated 3 kms from the Bay of the Mont St Michel and Genêts. Easy access to several places of interest and beaches. Established since 1990.

New !

Near beaches of Cotentin 50 10 mins from sandy beaches, a tastefully restored 17th century farmhouse A bright and peaceful house offering gîte for up to 5, or B&B and table d'hôtes serving local produce only.
Gites listed by department (in random order of departments)

Par département - en ordre aléatoire des départements
14 - Calvados -
the heart of Normandy, famous for its racehorses, its countryside, and the D-Day beaches
Gites near Villers-Bocage 14 + Two well furnished and comfortable gites, for 2 and 4 persons. Ideally situated for visiting Bayeux, D-Day Beaches and Mont St Michel

Apartments in old Honfleur 14 - Rental apartments in the centre of old Honfleur with private parking and free internet access. Open all year
Cottages in Calvados 14 - Four 16th century family-sized cottages (sleeping 4/6/7p) and one just for two in this picturesque valley in the Pays d'Auge, Normandy, 45 minutes from Channel ports.
27 - Eure -
from outer Paris to the mouth of the Seine, including Giverny, where Monet lived.
Central Normandy

27

- Discover this gite and bed-and-breakfast in the heart of Normandy, between Rouen and Giverny
Le Clos Vorin near Triqueville 27 - Close to Honfleur & the coast, 4 traditional gites on three acres of land in the Normandy countryside. Peace & quiet guaranteed.
50 - Manche -
The Cotentin peninsula and the west coast of Normandy
53 - Mayenne -
Deeply rural, a department on the edges of Normandy, Brittany and the Loire valley
Between Loire and Normandy

53

+ A beautifully restored English-run farm property B&B, with outdoor spa, set in the beautiful quiet countryside of the Loire valley.
Between Le Mans & Alençon 53 - Large restored farmhouse in a beautiful and tranquil country setting. A very comfortable home within easy reach of western France's most desirable destinations
Normandy - Mayenne border. 53 + 3 gites: Le Cerisier (7 people) Le Pommier (6 people) La Chouette (2 people). For large groups we can also take up to 5 people in our house making a total of 20 people
61 - Orne
Gîte near Alençon

61

Gite for four in an old house, comfortably renovated, in grounds of over four acres. Fireplace, dishwasher, terrace. Nine kilometres from Carrouges.. Online booking
76 - Seine Maritime
Thatched cottage near coast

76

Charming independent thatched cottage near Etretat. Five minutes from the coast. Two bedroom cottage for four, with garden, fully equipped kitchen, free wifi.
Large gite near Normandy coast

76

Between Dieppe and Fécamp, this is a gite for 14 people. Traditional half-timbered Normandy farm conversion with lots of character. 6 bedrooms, 2 bathrooms, large dining area, garden, wifi
Owners: add your site :


With up to more than 20,000 visitors per month Gitelink offers unbeatable value for owners wanting to advertise self catering in Normandy, holiday cottages, villas or gites in this or other regions of France. All properties are advertised in both the English and French versions of the directory. Very competitive pricing and a high level of clickthroughs ensure that Gitelink is a valued partner for an ever growing number of owners in France. Click for further details
Ajouter votre site sur Gitelink France:
Avec jusqu'à plus de 20 000 visiteurs par mois, Gitelink offre une vitrine bien visible pour annoncer votre gite à un public international. Pour inscrire votre gite visitez d'abord la page annonceurs.
Copyright Gitelink © 2015

For bookings and information please contact directly the owners of the property concerned : do not contact Gitelink France!
For some of the gites presented in this listing , booking must be made through Gites de France.
Information on gites listed in this directory is provided under the full and entire responsibility of the owners.
► Return to
Gites in France
Normandy gites - a selection of self-catering holiday cottages for hire directly from the owners
Gitelink sector 1 - east
Normandy

Normandy is a region that is easily accessible from the UK, Belgium and Holland, and ideal for short breaks without too much travelling. The region is composed of "Lower Normandy" in the west, and "High Normandy" in the east.
For the purposes of this directory, the "department" of Mayenne - lying between Rennes and le Mans - is also included.

Normandy,
from where William the Conqueror set out in 1066, has much in common with the south of England between Devon and Sussex: sandy beaches, rocky cliffs in the
Cotentin
peninsula, the famous white cliffs of
Etretat
, and an inland area full of wonderful small towns and villages, many boasting fine half-timbered houses and cottages. One such town is
Bayeux
, home of the famous mediaeval Bayeux Tapestry. On the coast in the west of the region lies the
Mont St. Michel
, the most visited historic site in France outside Paris.
The two main cities of Normandy are
Caen
, the capital of Lower Normandy, and
Rouen,
capital of High Normandy. While Caen has risen from the ashes after virtual destruction by allied bombing in the Second World War, Rouen boasts a fine historic centre, around one of France's great medieval cathedrals.
It was on the Normandy coast between Cotentin and the Seine that, in 1944, the historic
Normandy Landings
took place, paving the way to the liberation of France and the defeat of fascism in Europe. The Normandy beaches, the war cemeteries, and villages such as
Ste. Mere l'Eglise
, bear witness to this critical moment in recent history.
Normandy is also famous for its stables and racehorses, and the classic seaside resort of Deauville - with its well-known casino - has one of France's more famous racecourses.
Local specialities include sea food ("fruits de mer") , famous cheeses like
Camembert
and
Pont l'Evèque
, and of course, like the S-W of England, cider... but also its more potent cousin "
Calvados
".
The Gitelink Normandy directory offers a selection of self-catering holiday homes, from small traditional cottages to authentic half-timbered manor houses in the Norman countryside.
Visit About-france.com for more information on the
Normandy region
© Gitelink France
Gites in other areas of France: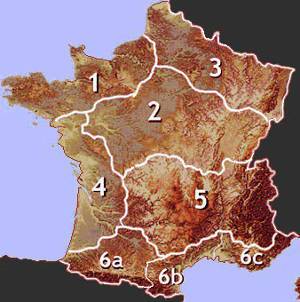 The regions of France
Gites in other regions of France

Propriétaires:
Ajouter votre site sur Gitelink France:
Pour inscrire votre gite ou villa, consultez nos informations
propriétaires
..
Copyright Gitelink 2015
Promoting gites since 1999


Copyright

Gitelink.com

2003-2015