Gites in the Champagne region
North East France - Area 3b
Lying in central northeastern France, Champagne area is one of the country's great historic regions. In past centuries, the regional capital was the great city of Rheims - or Reims as it is spelled in French. For hundreds of years, Rheims, was one of the important market cities of central western Europe, and its great gothic cathedral stood head and shoulders over the low houses of the old city. For ten centuries, Reims cathedral was the place where almost all the Kings of France were crowned, in memory of Clovis, the first great king of the Franks, who was baptised here in 499 AD.
Today the capital of the Champagne Ardenne region is the small town of Chalons en Champagne, just south of Rheims. Rheims itself remains the capital of a slightly different Champagne, the sparkling wine that is made exclusively in this region.
In the north of the region, the department of the Ardennes, bordering on southern Belgium, is quite heavily forested. In the centre of the region, the historic "Champagne", meaning just "the countryside", consists of the departments of the Marne and the Aube. This a rich agricultural area, and one of the breadbaskets of France, with vast cornfields stretching as far as the eye can see. It is also - along the hills called La Montagne de Reims - the location of the Champagne vineyards, which mostly lie between Rheims and Epernay. Troyes, capital of the Aube, is another historic city long famous for its textiles.
In the south of the region, the department of Haute Marne is very rural, and also reputed to be one of the cheapest areas in France. An area of hills and valleys, small towns and villages, it is very much an example of "la France profonde", or deepest France. With little in the way of tourist infrastructure, it is an area where a gite is often the best, or indeed only option for those wishing to escape from the pressures of city life, and enjoy a few days in this very undisturbed area, where some small towns and villages really do look as if time has passed them by.

More regional info:
Tourist guide to Champagne
Access to Champagne-Ardenne
By road:
from Calais or Lille: The whole area is easily accessible via the A 16 or A26 motorways from Calais, or the A1 / A2 motorways from Belgium and Holland via Reims, or directly from Belgium.
Access by rail: TGV from Paris Gare de l'Est or from Germany
International Airports
in this region : none.
Peripheral airports: Paris Charles de Gaulle, Luxembourg, Brussels Charleroi
Low cost airlines
serving this region:
Easyjet: Paris CDG,
Ryanair: Paris Beauvais, Brussels-Charleroi,
Flybe
: Paris CDG

For accommodation in other regions, click the map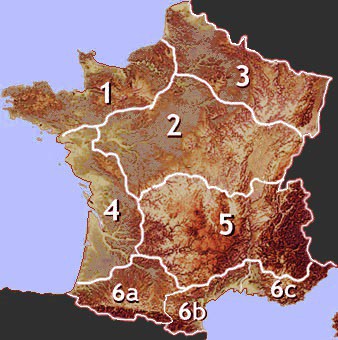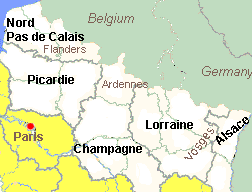 Sector 3b . North east France
Champagne-Ardenne region
Includes the following French departments:
comprend les départements...
08 Ardennes, 10 Aube, 51 Marne, 52 Haute Marne

Website in English

Site en français
Website auf deutsch

Website in Nederlands
Gites in Champagne - Ardenne region
Gite, B&B in Champagne

11

+ Bed and Breakfast and gîte in Champagne, eastern France, near mediaeval Troyes, lakes and forests, with swimming pool and tennis court.

Chambres d'hôtes et gîte en Champagne dans ancien relais de chasse près de Troyes; piscine et tennis. Proche lacs de la Forêt d'Orient.

Gite in Champagne vineyard area 51 Located near Epernay in the Montagne de Reims regional park, and the heart of the Champagne vineyard, this is a four bedroom 18th century gite with garden, terrace and two bathrooms. Dans le parc naturel de la Montagne de Reims, et au coeur du vignoble champenois, ceci est un gite 18e siècle avec 4 chambres terrasse et jardin. Réservation en ligne.

Character gite east of Chalon 51 self-catering gite for four with a garden next to a vineyard, on the eastern edge of the Champagne region. Online booking.

Gite de caractère pour quatre personnes dans un village aux confins de la Champagne et de la Lorraine
Depending on the gite, booking is either direct with the owners, or through our partner booking.com ; in either case, you will pay the gite owners directly. You may need to give a credit card number to secure your booking, even if full payment is not due until later .
Owners:




Adding your gite to Gitelink :


Gitelink is a cost-effective way of showcasing gites villas and cottage accommodation to a targeted audience on Internet

Propriétaires:




Ajouter votre site sur Gitelink :


L'annuaire Gitelink peut être une vitrine internationale pour votre gite. Pour plus d'informations, consultez la page propriétaires.
The Gitelink France directory lists selected self-catering holiday gites in France. Each site listed is the individual responsibility of the owner of the property, and contains a detailed and illustrated presentation of the gite and - in many cases - of the area in which it is situated.




For bookings and information please contact directly the owners of the property concerned : do not contact Gitelink !



Copyright Gitelink.com 2014
Top photo by S. László - license Creative commons.