An introduction to North East France
Sector 3a:
Nord Pas-de-Calais and Picardy
The
Nord – Pas-de-Calais
region includes the French part of the historic area of Europe known as Flanders - today divided between France and the Low Countries, plus the French part of the historic Artois
The region is divided down the middle between two departments, the Pas de Calais to the southwest, and the department of le Nord to the northeast, along the Belgian border.
The Nord department, capital Lille, is the most heavily industrialised department of France, and the most densely populated area outside the Paris region. Lille itself is a vibrant city that has reinvented itself as the central point on the Paris - Brussels - London high-speed rail network. It has historic quarters and some fine museums.
The Pas de Calais, by contrast, is largely rural, its chalk hills and valleys very reminiscent of the landscape of eastern Kent, to which it was once joined, many thousands of years ago. This department has seaside resorts, and small country towns; in terms of population density, it is one of the the least populated areas within 100 miles of greater London.
Picardy
covers the area between Nord – Pas-de-Calais and the Paris region. The south of the modern region is not part of the historic area of Picardy, and is economically part of the greater Paris area. In the east, Picardy is a very agricultural area, and one of the most important French production areas for sugar beet and cereals. At the heart of the battle zones during the First World War, it is an area that today offers many a sombre lesson in history.

More regional info:

Tourist guide to Picardy and its attractions
Access to Northern region and Picardy
Lying in the triangle between Paris, London and Brussels, both Picardy and the northern region are very accessible from all directions.

By ferry:
directly to Calais or Boulogne
Access by train: TGV from Paris Gare du Nord , Thalys from Brussels and Amsterdam, Eurostar from London to Calais or Lille.
International Airports
in this region : Lille.
Peripheral airports: Paris Charles deGaulle, Luxembourg, Brussels Charleroi
Low cost airlines
serving this region:
Easyjet: Paris CDG,
Ryanair: Paris Beauvais, Brussels-Charleroi,
Flybe
: Paris CDG
For other regions, click the map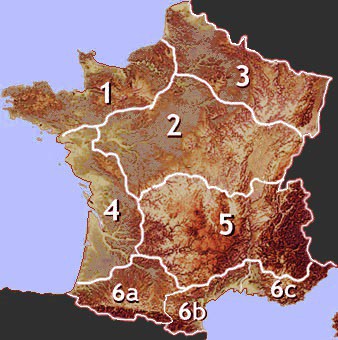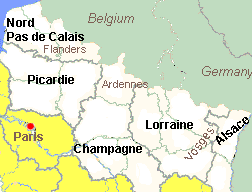 Sector 3a . North east France
Flanders, Artois, Picardy
Includes the following French departments:
Northern region:
59 Nord,
62 Pas de Calais
Picardy region:
02 Aisne, 60 Oise, 80 Somme

Website in English

Site en français
Website auf deutsch

Website in Nederlands
Gites by region

Gites in Nord - Pas de Calais
Gites in Picardy
South of Boulogne

80

A comfortable modern seaside family house at Fort Mahon Plage, or an attractive apartment, specially for couples, well placed for outdoor activities including sailing, golf or hiking.
B&B south of Laon

02

– Standing in grounds of a hectare, 12 miles south of Laon, this B&B in a converted farmhouse has five rooms. Evening meals available. Wifi.
Owners:




Adding your gite to Gitelink :


Gitelink is a cost-effective way of showcasing your gite villa or B&B to a targeted audience on Internet: a selective gites directory, Gitelink achieves a high ratio of visitors to sites listed, resulting in excellent visibility and a steady flow of visitors for all gites and b&b properties listed

Propriétaires:




Ajouter votre site sur Gitelink :


Pour l'inscription de gites villas de vacances ou chambres d'hôtes, consulter d'abord la page propriétaires. Grace à un excellent rapport entre visiteurs et nombre de propriétés inscrites, Gitelink est une vitrine efficace pour la promotion d'hébergements ruraux en France.
The Gitelink directory provides direct links to websites presenting selected privately rented self-catering villa rentals and holiday cottages in France. Each site listed is the individual responsibility of the owner of the property, and provides a detailed and illustrated presentation of the gite and - in many cases - of the area in which it is situated.
For bookings and information please contact directly the owners of the property concerned