2013

Cottages and gites in Dordogne and Lot & Garonne,

Southwest France, covering the areas around

Perigueux (Perigord), Bergerac and Agen,
Ferienwohnungen in Westfrankreich, Lot & Garonne und Dordogne


Gites in Dordogne and Lot et Garonne
The
Dordogne and Lot & Garonne
departments stretch from the low-lying Atlantic coastal plain to the foothills of the Massif Central on the borders with the Limousin region. The area has long been popular with visitors from Britain, Holland and other parts of Europe, as well as Parisians, many of whom have retired to this part of rural France and renovated old rural properties as gites.
In much of the region, traditional houses are built in the local honey-coloured limestone. Dordogne is also celebrated for its beautiful villages, castles and also prehistoric sites including the world-famous Lascaux caves.
For the French, Dordogne - more commonly known as Périgord - is best known for its famous cuisine, and regional specialities such as paté de foie gras and truffles, walnut oil are known throughout France and well beyond. Lot et Garonne is famous for its fruit and vergetables, including Agen prunes and Marmande tomatoes.
Driving times for the Dordogne area :
7 to 12 hours from Calais or Lille under normal driving conditions.
Best access routes
from UK, Belgium or Holland:
Western channel crossings to Roscoff, Cherbourg ofr Caen. From Calais, motorway via Rouen and Orleans. See
Driving in France
Regional airports:
Nantes, La Rochelle, Bergerac, Bordeaux, Limoges.
Airlines
serving this region:
Flybe
Jet2
Easyjet
Ryanair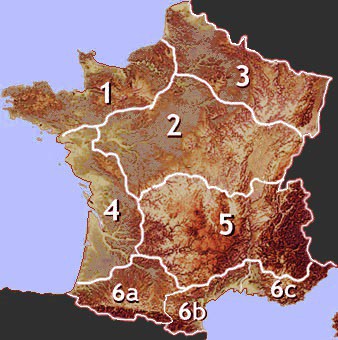 The regions of France
Gites in other regions of France


A guide to France

Copyright

Gitelink.com

2003-2012


Area 4b: inland Aquitaine /
Dordogne & Lot et Garonne.

Includes the following French départements:


24 Dordogne - 47 Lot et Garonne

:
► Click here for gites in Charentes, Garonne, Vendée & Landes
► Click here for gites in the Lot, Rouergue and Quercy
► Click here if you are looking specifically for B and B s in Dordogne and west France


a)The latest addition - Le dernier site inscrit
New !

Gite in Dordogne 24 + with optional private French lessons. Old 17th century cottage near Lascaux caves in Dordogne, 3 bedrooms 2 bathrooms, nice views and walks.

Gite dans une veille maison du 17° siècle, près de la Grotte de Lascaux, des Eyzies et de la Vézère. Trois chambres, deux s-d-b, situation panoramique
b) By department - par département
24

- Dordogne gites
47
- Lot et Garonne gites
Between Lot & Garonne

47

+ A warm welcome awaits you at Faysselle. Three lovely gites with pool set in 12 acres of idyllic countryside.
Holiday house in sw France 47

Quality self-catering accommodation in tranquil, rural location, sleeps 8, swim spa / hot tub. 45 minutes from Bergerac airport
Gite south of Bergerac

47

A rustic gite in a rural setting with splendid views and sharing a large pool . Three large bedrooms and two bathrooms. Ample secluded garden..
For bookings and information please contact directly the owners of the property concerned : do not contact Gitelink France!
Owners:

Add your gite to Gitelink :
A Gitelink listing offers owners strong visibility on the Internet, with an exceptionally high ratio of visitors to properties listed. As one of the oldest and best referenced gites directories on the Internet, Gitelink guarantees a regular flow of visitors to all sites listed. Click here for more details

Ajouter votre site sur Gitelink :


Pour inscrire un gite à Gitelink Dordogne / Lot et Garonne, consultez d'abord notre page informations propriétaires.