Traditional gites in Languedoc

The Languedoc-Roussillon
region, capital Montpellier, stretches from the Rhone to the Spanish border, and is one of the most popular tourist regions in France. Most of the population of Languedoc is concentrated on the flat coastal plain and the low hill country behind it. With the exception of the Aude corridor, the whole region is bordered inland by medium to high mountains, including the Pyrenees, the Montagne Noire and the Cévennes.
The coastal strip is famed as the most productive wine-growing area in France; the hills inland begin as arid Mediterranean hinterland and rise to well watered uplands, notably the department of the Lozère (for gites in the Lozère, see
Southern Massif Central
).
There are plenty of gites in the Languedoc region, including many gites ith English-speaking owners. As a coastal Mediterranean region, the Languedoc has seen a large influx of emigrants from northern Europe, including Britons, Dutch and Germans who have bought up cottages in this region and opened up gites, notably in villages on the Languedoc plain, in the foothills of the eastern Pyrenees, and in the rolling hills of the Aude between the coast and Carcassonne.

More information
► Brief guide to Languedoc Roussillon and its tourist attractions

► Gitelink Languedoc guide
Languedoc travel information
Driving times for Languedoc :
10 to 12 hours from Calais or Lille under normal driving conditions.
Best access routes from the UK, Belgium or Holland:
Motorways via Dijon and Lyons, or Orleans and Clermont-Ferrand.
Languedoc regional airports:
Montpellier, Carcassonne, Nimes, Perpignan.
Peripheral airport
: Marseilles.
Click here for details of
low-cost flights to the south of France

Accommodation in other regions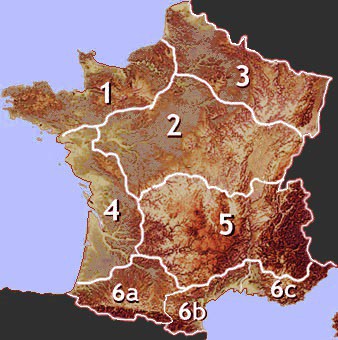 Owners :
Add your gite to Gitelink France:
Gitelink is a directory specialising in in good quality good-value French gites and holiday accommodation. Listing only properties with character, notably gites in rural areas, Gitelink - established in 1999 - is an effective way for owners to advertise their properties for direct rent, without the services or cost of any intermediary.

More details
for gite owners
Some useful links
►
Low cost car hire
►
Driving to Languedoc
►
Guide to the wines of France
►
General Information about France
►
Gites in France
Area 6b . The South of France
Eastern Pyrenees, Languedoc Roussillon & Cevennes
This part of Languedoc Roussillon comprises the following French departments:
11 Aude, 30 Gard, 34 Hérault, 66 Pyrénées Orientales


Further north
: click here for
12 Aveyron, 48 Lozere, 07 Ardèche

Gite avec site en français

Gite with website in English
Website auf deutsch

Website in nederlands
Enlaces en español.

Latest additions
New!

Woodland gite with pool 11 A beautiful gite in the Aude. Perfect for weekends and short lets. Ideal for those who like privacy and love nature - for writers, artists, dreamers...

New!

Gite in Laurac 11 'Couples Retreat' - South facing spacious, 1 bed village property. Stunning views across the hills of the Lauragais; peace and tranquility that is Laurac

New!

Gite near Villardonel 11 Detached self catering gîte with chalet in own grounds sleeping up to 7, peacefully set on the edge of a Montagne Noire village near Carcassonne



►►

Gites - listed by department
(Departments are listed in random order)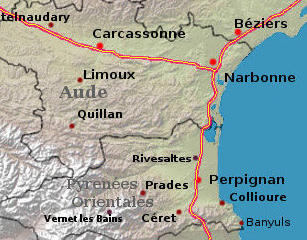 Aude and Pyrenees Orientales
Gard and Hérault departments
For bookings and information please contact the owners of the property concerned or book online, as appropriate.