Gites, B&Bs and villas in the south of France

This part of the directory covers the departments of the south of France, from the Atlantic Pyrenees in the west, to the Provence Alps and Riviera in the east..

Driving times for this region:



From Calais or Lille:

7 to 12 hours under normal driving conditions, depending on destination.


Main airports in the south of France:


Marseilles, Nice, Toulouse, Perpignan, Carcassonne, Béziers, Pau Bed and Breakfast in France
For gites in other regions, click the map below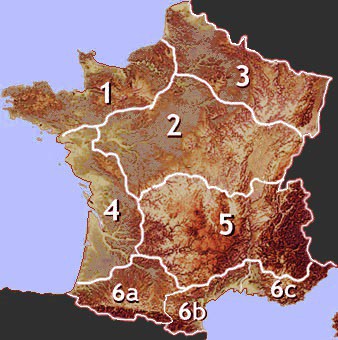 A wealth of information about France

Owners:
add your self-catering gite or villa to Gitelink France:
See
gite owners page
for more details
What our customers say:

** "

Thanks for your services. Gitelink certainly boosted our business

"
R.J. South of France
**
"We thank you for the service, and are pleased with the results
"
J.D. Brittany
** "
Just to let you know I'm very pleased with the click throughs from Gitelink - I'm averaging 4 a day from you
"
G.S. South west France
Click on the map to select an area




Dividing the south of France

into coherent tourist areas is not an easy task, since the official regions do not always match either the boundaries of historic provinces nor areas that logically go together. For instance, while most of the Languedoc region is made up of Mediterranean coastal plain and its direct hinterland, the Lozère department (48) is a high mountain plateau much of it over 1000 metres, and very different from the rest of the region. Gitelink has chosen to divide the south of France into areas that are more logically coherent units in terms of climate and landscape.
The darkened areas on the map are the true "Midi", the Mediterranean and Pyrenean departments of France, and the Provence Alps. The departments lying to the west - Landes (40) and Tarn et Garonne (47) and northwest - Dordogne (24) - are more commonly considered to be "southwest France"; those lying in the centre of the paled area of the map are the hill and mountain departments forming the southern Fringe of the Massif Central - the Lot (46) and Aveyron (12) in the west, the Lozère (48) and Ardèche (07) in the east.
Most of the map above is clickable.


►
A very brief guide to the different areas of southern France.
Area 6 a :

The Pyrenees and Midi Toulousain, the area around Toulouse, including a good part of historic

Gascony

. High mountains along the Pyrenean chain, mostly gently undulating farmland across the rest of this area. Bigger than Belgium, this region is mostly rural, and offers a good choice of environments. Gite or villa prices in this area are about average.

Area 6 b :

Languedoc - Rousillon : The western part of France's Mediterranean coastal strip. A relatively narrow low-lying coastal strip, backed by a very dry hinternland, including the eastern end of the Pyrenees, the Montagne Noire and the lower end of the Cevennes. There is a considerable range of gites, villas and b&b accommodation in this area, and average prices vary considerably.

Area 6 c :

Provence and on the French Riviera, plus their hinterland, an area which includes the dry southern Alps. Along the coast, this is France's most popular tourist region; inland it is also popular, though not on the same scale. Gite and villa rental prices for this area tend to be above average, and there are plenty of high quality coastal villas, or gites in traditional rural environments.
Copyright
Gitelink 1999 - 2016