A Gitelink directory
B&B accommodation in upland and mountain France, Area 5


Quiet bed and breakfast accommodation in central southern France and southeastern France, for overnight stopovers or longer stays. A choice of B&Bs in the hills and the country, and near motorways to the south.
B&Bs in other regions: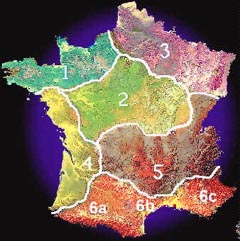 Useful....
---
Annoncez votre b&b ici avec photo. Pas plus de 2 propriétés seront présentées.
Advertise your B&B here,
with photo
. See right for contact details
Owners:

Add your bed and breakfast accommodation to Gitelink / BandB-in-France.com

With up to more than 20,000 visitors a month for a small and selected directory of less than 250 properties, Gitelink / BandB-in-France offers unbeatable value for owners wanting to advertise a holiday property or B&B in France. Very competitive pricing and a high level of clickthroughs ensure that Gitelink is a valued partner for an ever growing number of owners in France..
Click for further details


network
partner



Copyright 2005-2017