B&B in "Le Midi" - Selected Bed and breakfast accommodation in Mediterranean France and the Gascony - Pyrenees area.
(Areas 6a - 6c)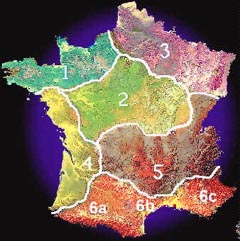 Owners:
Add your property to Gitelink / BandB-in-France.com. Very competitive pricing and a high level of clickthroughs ensure that Gitelink is a valued partner for an ever growing number of owners.
Click for further details
Ajouter votre site sur BandB-in-France.com: Voir nos critères et nos conditions à la page
propriétaires

*Copyright 2005-2014
►
Click map to choose an area
►
Chosissez votre région

This page covers the South of France from Gascony to the French Riviera
Departments west of the Rhône (Languedoc and Pyrenees)
: 11 Aude, 30 Gard, 34 Hérault, 66 Pyrénées Orientales; 09 Ariège, 12 Aveyron, 31 Haute-Garonne, 32 Gers, 46 Lot, 65 Hautes-Pyrénées, 81 Tarn, 82 Tarn-et-Garonne,
Departments east of the Rhône (Provence and Riviera)
: 05, Alpes de Haute Provence, 06 Alpes Maritimes, 13, Bouches du Rhône, 83 Var, 84 Vaucluse
1. Languedoc region - Mediterranean costal areas
New!

Gites et chambres proche Beziers 34 Dans un beau cadre au bord de l'Orb et au coeur du vignoble languedocien, gîte avec grande piscine et jardins en terrasse

New!

B&B in Quillan. 11 Aude Beautiful riverside house, on the River Aude in picturesque Quillan. Ideal base for all sorts of holiday or exploring Languedoc-Roussillon in southern France.
Village b&b near Limoux 11 Aude + Beautifully restored bed and breakfast and gite nestling in the foothills of the Pyrenees in the south of France, 50 mins south of Carcassonne.
Stylish B&B near Canal du Midi

11 Aude

+ La Souqueto is a sensitively restored and renovated townhouse in a small Medieval village near the Canal du Midi in the Languedoc.
B&B near Carcassonne. 11 Aude + Enjoy the atmosphere of La Marelle, a tastefully renovated 16th century house, with outdoor pool. Village location 800 metres from the Canal du Midi, and close to Cathar castles, ancient abbeys and other places to visit. Five b&b rooms.
B&B in Pyrenean foothills 66

Pyrenees Orientales

Secluded restored farmhouse with private pool in 65 acres in the foothills of the Pyrenees available for private rental or B&B.
B&B near Collioure 66

Pyrenees Orientales

Near the beaches, le Chai Catalan is an old winery that has been renovated with taste and originality. Four guest rooms, private lounge, garden and pool.
Village B and B near Nîmes.

30

Gard

+ Stay in a mediaeval village. Friendly B&B and gite , with a beautiful secluded garden, providing a relaxing holiday environment.
Upscale B&B near Nimes

30

B&B at Saint Gilles, close to Nîmes: impressive 19th century building with outdoor pool and two hectares of grounds. Peaceful location with easy access to Nimes airport.
B&B in hamlet north of Montpellier 34 35 km n of Montpellier, B&B in old traditional village house. Terrace, garden with olive trees, evening meals if pre-booked. 5 rooms.
New !

Gascony château B&B

32 Gers

+ Magical 35 acre historic Chateau estate just outside Auch, Gascony. Two B&B rooms for 2 people in historic wing of the château.
Rural B&B south of Toulouse 31 Haute Garonne Bed and Breakfast in a former farm 25 km south of Toulouse. Traditional building, very calm location, garden, free wifi, online booking.
B&B in foothills of the Pyrenees 31 Haute Garonne Three B&B rooms in this old country house 4 km from Aspet. Heated outdoor pool, gym, table tennis. Restaurants in Aspet. Free wifi, online booking.
B&B Tarascon sur Ariège

32

B&B in 17th century building in rural location. Tasteful en-suite rooms, indoor pool, friendly welcome and good value. Just off E9 N20, and only a mile from railway station.
B&B in Ariège near Pamiers

09

Three B&B rooms; outdoor pool, garden, terrace, children's play area. Private bathrooms. Evening meals on request. 45 km from Carcassonne. English speaking hosts. Non-smoking.
Rural B&B near St. Girons

09

B&B with spacious grounds in Pyrenees foothills. Private access to the river, en-suite rooms, library, lounges. Dinner available if ordered. Five rooms. 25 km from Foix.
3. Provence and the Riviera
New !

B&B on the French Riviera

06

French Riviera, between Monaco(8km) and the Italian border (7km) Air-conditioned B&B with terraces. Panoramic views to the sea and the mountains. Garden, swimming pool, boules, private parking, complete peace and quiet.



Properties listed by department

(departments in random order)





84 Vaucluse




18th Century bastide, Luberon 84 + surrounded by vineyards and orchards; b&b in this charming Provençal bastide, near Gordes, that has been in the family for 5 generations.
BandB in the Luberon

84

* Bed and Breakfast at Oppède, one of the famed "perched villages" of the Luberon. En-suite rooms, courtyard dining area, home-made dinners with local wines. Online booking.



83 Var



Provence / Riviera Gite & B&B

83

+ In the vineyards, la Grande Lauzade offers a gite and attractive b&b accommodation, with pool, in a restored 18th century winery. .
B&B near Aix en Provence

13

- Between Luberon and les Baux, amidst Mediterranean pines south west of Lambesc, B and B accommodation in a peaceful and relaxing environment.
Provence B&B

13

Just outside Salon de Provence, a villa set in more than 2 hectares (5 acres) of private grounds. Offering just one room, for guests who want a private stay. Meals and airport pickup no problem.

06 Alpes Maritimes - French riviera
B&B inland from Nice

06

- + B&B at Les Cyprès, in the village of Contes, in the mountains inland from Nice. Easy access to the coast. Mountain views, free bike rental. Online booking.
Search for self-catering holiday cottages -

recherchez des gîtes

Click here for self catering gites in Languedoc Pyrenees region
Cliquez ici pour des locations et gites de France dans le Midi
Click here for gites and villas in Provence Alpes Côte-d'Azur