Fresh seafood on sale in Brittany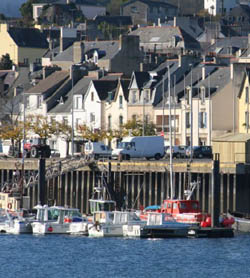 Douarnenez, Finistère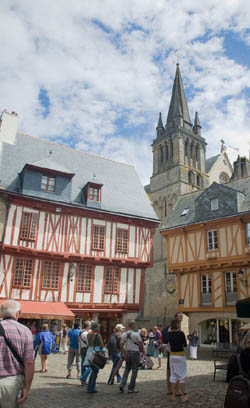 Vannes



Plate of fruits de mer

Photo Marylou Jean - GNU
Brittany - living off the land and the sea



On this page

:

Brittany specialities
Some of Brittany's good restaurants

Brittany food

Like virtually anywhere in France, Brittany is a region with fine gastronomic traditions, the most famous of which is shellfish, or as the French call them "fruits de mer", fruits of the sea.
Coastal fishing takes place all round the shores of Brittany, and each small harbour has its fishing boats. Fishing ports such as Concarneau, in the Morbihan, have boats specialising in crabs and lobsters, fished in the waters between the coast and the Glenan islands. When times are good, they may also bring in a lobster or two. Oysters are raised in oyster beds on other parts of the coast. The fishermen of Brest, Morlaix and the big fishing ports take their ships many hundreds of miles from the Breton shores, to bring back an array of Atlantic and northern fish; but in many places stock are becoming depleted, and strict quotas have left the Briton fishing fleets much smaller than they used to be.
Popular shellfish include a range of mussels, winkles, scallops (coquilles Saint Jacques), oysters and other mouth-watering delicacies, which Breton restaurants can serve in a marvellous range of styles.

Other delicacies for which the region is famous include "crêpes" (pancakes) and a variety of Breton pastries, the most famous being the Breton butter cake or Kouign Amann .
Brittany has a strong agricultural tradition, and is famous for its early vegetables and its salted butter, which many restaurants will find the most mouth-watering ways to combine.
Unlike most regions of France, Brittany does not have a great tradition in cheese. There are no famous Brittany cheeses; a number of local cheeses are however produced, and these are often available in restaurants and good food stores. On the other hand, Brittany is famous for its butter.




Drinking

: Brittany is not a wine-producing region of France; however white wines are produced in the Loire Atlantique department. As in Normandy, cider is a more traditional drink in this part of France




---




Some of Brittany's good restaurants:


There are plenty of good places to eat in Brittany; the list below is just a selection. The Gitelink Brittany guide welcomes suggestions for other good eating places to include in this guide.

Cotes d'Armor


Perros Guirec

: the restaurant of the

Agapa Hotel

, specialising in fresh local produce.


Perros Guirec

: restaurant

Manoir du Sphinx

, perched on the rocks above the seashore.


Saint Brieuc

: Restaurant

aux Pesked

; specialises in seafood, with a reputation for langoustines.

Morbihan


Carnac

: Restaurant

La Côte

: a delightful setting, reasonably priced menus, and also specialises in lobster.


Port Louis

: Restaurant

Avel Vor

- specialising in the freshest fish and seafood, right off the boat.


La Roche Bernard

: Restaurant

l'Auberge Bretonne

. Michelin starred restaurant with chef Jacques Thorel


Lorient

: Restaurant

L'Amphytrion.

Michelin starred restaurant with a chic contemporary ambiance. Reputed to be one of the best restaurants in Brittany, but at 100€ to 150€ the menus are not cheap. The owners also run

l'Alto

restaurant, located in the Lorient theatre building, which offers top quality cuisine at more everyday prices.

Finistere


Roscoff

:

Le Temps de Vivre

- Michelin star restaurant, three stars from the Bottin Gourmand guide - specialises in local produce, including fruits de mer.


Pont Aven

: the

Moulin de Rosmadec

restaurant, housed in a 16th century watermill; Breton specialities presented with a special touch, and reasonable prices.

Ille et Vilaine


St Malo

: Restaurant

le Chalut

, specialising in seafood


Cancale

: Restaurant

Olivier Roellinger

. Two Michelin stars - reputed as one of the best restaurants in Brittany; fish and seafood a speciality.




©
Gitelink.com
To contact

the guide, email brittany "at" gitelink.com