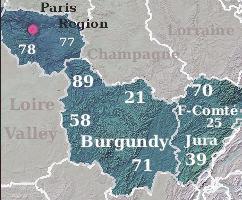 Paris region
Departments 77 Seine et Marne, 78 Yvelines, 91 Essonne, 92 Hauts de Seine, 93 Seine Saint Denis, 94 Val de Marne and 95 Val d'Oise

Symbol
:
🏠
Book directly with owners.
Website in English Site en français
Website auf deutsch Website in Nederlands
Click on any gite link for further details
For Paris
accommodation, see
City gites
page
Burgundy gites

71 Saône et Loire
58 Nièvre
89 Yonne :

21 Côte d'Or :
Ile de France - Paris area gites
Franche-Comté - Jura area :
Owners: add your site :
With up to more than 20,000 visitors per month Gitelink offers unbeatable value for owners wanting to advertise self catering in Normandy, holiday cottages, villas or gites in this or other regions of France. All properties are advertised in both the English and French versions of the directory. Very competitive pricing and a high level of clickthroughs ensure that Gitelink is a valued partner for an ever growing number of owners in France.
Click for further details
Propriétaires:
Ajouter votre site sur Gitelink France:
Pour inscrire votre gite ou villa, consultez nos informations
propriétaires
..
© Gitelink France - established in 1999
Gitelink - a selection of self-catering holiday cottages for hire directly from the owners.

No fees !
With Gitelink
book directly with owners
, avoiding the commissions and administrative fees charged by many online holiday rental agencies and websites. Some properties may or must be booked through a booking portal that does not charge any fees to the customer.

The Gitelink selection
Burgundy and Franche-Comté, including the Jura mountains

BOOK DIRECT - NO FEES
Book accommodation at the best rates possible. Most properties listed on Gitelink can be booked directly with owners. Other properties, including several in this area, must be booked through a portal which does not charge any fee to the customer. Either way the visitor will get the best rates possible, avoiding the extra fees charged by other booking sites, including Gites de France.
Eastern central France
This area of France lies around and to the southeast of Paris. It includes the valleys of the Seine, the Loire and the Saône. Hiring a gite or a villa in the Paris area can be an interesting alternative to staying in a hotel in Paris, specially if there is a railway station nearby. A gite can also be an option for families wanting to visit Disneyland as part of a French holiday.
Burgundy is largely an area of hills and valleys, famous for its vineyards, mostly concentrated in the south and around Chablis in the north. Burgundy is also the Morvan hills, with their spruce forests and hiking trails. Though culminating at less than 1000 metres, these are the closest mountains to Paris and are consequently popular with hikers and nature-lovers.
Franche Comté is made up of the Jura mountains, rising to 1500 metres on the Swiss border, and the rural hill country of the Doubs and Saone river basins. It is one of France's great underrated holiday areas, an area with fine countryside and plenty to see and do. In summers when much of France is dry and parched, the Franche comté generally remains a reasonably green and pleasant land .
Getting to Burgundy and the Jura
Driving times to Burgundy
3 to 5 hours from Calais or Lille under normal driving conditions.
Best access routes
from UK, Belgium or Holland:
. From Calais, motorway via Paris or via Reims.
Fly to Burgundy or the Jura
Peripheral airports: Paris, Basel-Mulhouse, Lyon, Geneva
Gites in other regions - clickable map