gites en Périgord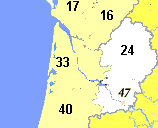 Area 4 . South west France
Dordogne & Lot et Garonne - inland Aquitaine
Includes the following French départements:
24 Dordogne - 47 Lot et Garonne
:
Website in English Site en français Website auf deutsch Website in Nederlands
NEW
:
West France gites map
- Find gites on a map
Best rates, no extra fees !
With Gitelink, most properties can be booked
directly with owners
, avoiding the booking fees, administrative charges or credit card fees charged by many online holiday accommodation sites.
The latest additions in this area
Gites by department /
par département
24

- Dordogne gites
Gites in Vézère valley 24 Family friendly 6 bedroom house with private pool plus 4 separate gites and a second shared pool. Close to all amenities and visitor sites
Dordogne B&B 24 - We offer a friendly, comfortable stay in our lovely house, tucked away in a tranquil corner of a village yet near amenities and activities.
Dordogne cottages 24 - : A wonderfully located gite complex, including cottages and studios, with pool, garden and games, in the centre of the "golden triangle" of the Perigord Noir.Close to Sarlat & Les Eyzies.
Gites near Domme 24 - - :A cluster of 4 small luxury gites in the golden triangle of the Black Perigord above Cenac et St. Julien with stunning views of Domme.
Gite near Beynac 24 - : Accommodating up to 6 people, la Lande is in a rural setting so you get all the peace and quiet but only 10-20 minutes away from the main Dordogne tourist attractions
Apartment in historic Sarlat 24 - :Comfortable studio overlooking Sarlat's main square in the heart of the medieval district, located in one of Sarlat's most iconic buildings. Sleeps 2.
Gite with pool near Les Eyzies 24 - : Beautiful 2 bedroom gite with private pool on the edge of a pretty French village with bar & restaurants close to tourist attractions
B&B at Sarlat, Dordogne 24 - Three B&B rooms in this elegant house standing in its own grounds just outside Sarlat la Caneda. Organic breakfasts, painting courses available. Online booking.
Gite for 6 near St. Cyprien 24 - Gite for 6 in a traditional Dordogne house, with swimming pool. Online booking. No internet.
Dordogne gites near Belvès 24 - : Beautiful French farm house and Cottage in tranquil and rural setting, accommodating 6 or 2 guests. Fully equipped traditional Dordogne houses. Shared pool
Small Dordogne château 24 - :Mini Chateau with tower. Drinks on the battlements with magnificent views over the valley. 4 bedrooms, each with en-suite bathrooms. Swimming pool & Tennis courts
Gîte near Cherval 24 - Western dordogne, large independent gite with 5 bedrooms and pool, plus 2 independent B&B rooms, with access to the large garden of the owners house next door.


47

- Lot et Garonne gites
Secluded gite near Marmande 47 Gite for up to 9 in romantic location with spectacular views, a lovely private pool adjacent to a beautiful ancient stone cottage, plus separate artist studio
Small gite with pool 47 - : 15 km south of Marmande, in the Garonne valley, an upstairs gite for 4 with private terrace, garden and own swimming pool. The gite is located in a quiet farming hamlet. Also B&B.
Between Lot & Garonne

47

A warm welcome awaits you at Faysselle. Three lovely gites with pool set in 12 acres of idyllic countryside.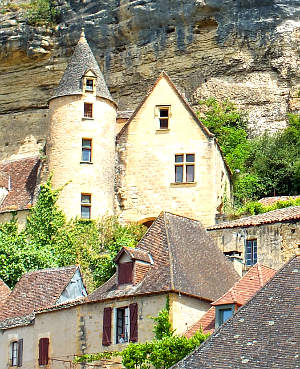 Dordogne and Lot & Garonne
The departments of
Dordogne -
capital Périgueux -
and Lot & Garonne
- capital Agen - stretch from the low-lying Atlantic coastal plain to the foothills of the Massif Central on the borders with the Limousin region. The area has long been popular with visitors from Britain, Holland and other parts of Europe, as well as Parisians, many of whom have retired to this part of rural France and renovated old country cottages as gites.
In much of the region, traditional houses are built in the local honey-coloured limestone. Dordogne is also celebrated for its beautiful villages, castles and also prehistoric sites including the world-famous Lascaux caves.
For the French, Dordogne - more commonly known as Périgord - is best known for its famous cuisine, and regional specialities such as paté de foie gras and truffles, walnut oil are known throughout France and well beyond. Lot et Garonne is famous for its fruit and vergetables, including Agen prunes and Marmande tomatoes.
Getting to the the Dordogne area:
Driving times
7 to 12 hours from Calais or Lille under normal driving conditions.
Best access routes
from UK, Belgium or Holland:
Western channel crossings to Roscoff, Cherbourg or Caen. From Calais, motorway via Rouen,Orleans, A71 and A20. See
Driving in France
Fly to the Dordogne
Regional airports:
Brive la Gaillarde, Bergerac, Rodez , Bordeaux, Limoges.
Airlines
serving this region:
Flybe
Jet2
Easyjet
Ryanair
Regional information:
Dordogne area guide
- all the Dordogne valley area
Gites in other areas of France:
Select an area on the map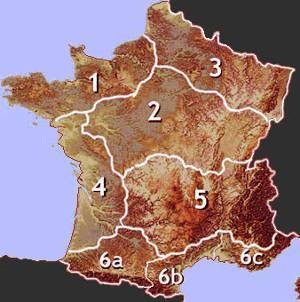 or choose a region
Copyright Gitelink 2018
Except for photo top of page by Père Igor.
Creative commons licence