Brittany - Normandy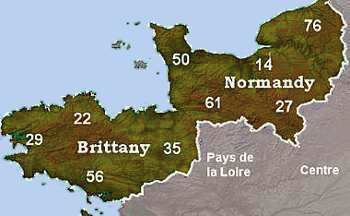 Click on the link to any B&B below for a detailed presentation with prices and photos
. Properties marked
✿
can be booked directly with the owners, others through a booking service that does not charge commission on top of the quoted rates.
The departments of Brittany:
22 Cotes du Nord, 29 Finistère, 35 Ille et Vilaine, 56 Morbihan
The departments of Normandy:
14 Calvados, 27 Eure, 50 Manche, 61 Orne, 76 Seine Maritime
Flag symbols refer to the languages of websites.
Owners:
Add your property to Gitelink / BandB-in-France.com. Very competitive pricing and a high level of clickthroughs ensure that Gitelink is a valued partner for an ever growing number of owners.
Click for further details
Ajouter votre site sur BandB-in-France.com: Voir nos critères et nos conditions à la page
propriétaires