Two gîtes in the heart of the countryside
General presentation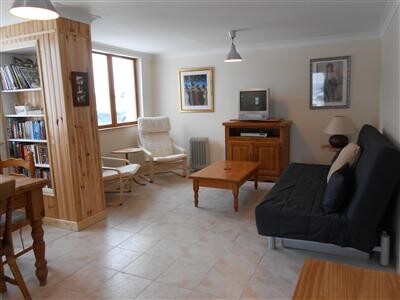 La Grange - the living room
The gites at the Old Bakery - La Grange and The Summer House are - situated in Burgundy, in open farmland and woodland 20 minutes from Beaune, the wine capital of France. .
La Grange, translated from the French means "The Barn" which is what it was originally. It has been completely renovated and now comprises three bedrooms upstairs, all en suite and all with air conditioning, a large country kitchen and a living room/diner. It sleeps nine, maximum. The kitchen is well equipped with enough crockery, glasses, pots and pans to accommodate anyone who comes to stay. From the kitchen window you have an uninterrupted view of the fields and woods all the way to Ciel, the nearest village, two and a half miles away.
The Summer House is a bit smaller, sleeping seven, maximum, having two bedrooms, a bathroom, living room and an equally well equipped kitchen/diner. Both gites have English TV with Sky Freeview.
The two gites share the solar heated swimming pool which is the same depth – 1.25 metres – throughout making it comfortable for pool games as nobody has to put up with being in the deep end.
The heated pool, shared by visitors to La Grange and to the Summer House
Both gites have outside terraces with wonderful views over the countryside, making them both summer outside entertainment, central. You could quite easily sit there all day in the quiet calmness and then have a pole position view of the fabulous sunsets in the evenings. In the depths of the Burgundy countryside, there is no light pollution so the night sky is a sight to behold. We have seen shooting stars and even tracked the International Space Station when Tim Peak was on board from there.
Each gite has two sun loungers and its own fenced and gated garden making them safe for children and dogs. Each has its own parking too. There are even two bicycles available for use - an ideal way to explore the flat Saône valley countryside. Five kilometres away, you can even get onto the European Veloroute EV6 that will take you to nearby Châlon-sur-Saône.
Ciel, the nearest village, has a small restaurant, a boulangerie, hairdresser and a top-quality family butcher. His Charolais steaks are to die for! Verdun sur le Doubs, 10 minutes in the car, the nearest small town, has a small supermarket, service station 24/7, boulangeries, bank with 24/7 ATM, a few shops and bars and restaurants. Verdun is the confluence of three rivers – Le Doubs, Le Petit Doubs and La Saône making it a fisherman's and pleasure-boater's paradise.