Things to see and do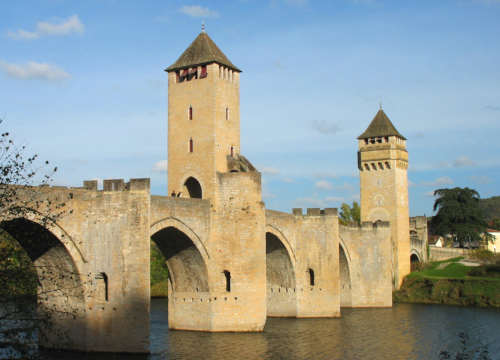 The remarkable medieval fortified bridge over the river Lot at Cahors
Cahors about 20km west of Mas de Batie is the prefecture (seat of local government of the Lot department) It lies on a meander of the Lot river and is a sleepy mediaeval town, a pleasure in which to stroll around. One must be sure to see and walk across the Pont Valentré, a 14th-century six-span fortified stone arch bridge that crosses the Lot. Also not to be missed is the Cathedrale St Etienne that dates from the 11th century and is a fine blend of Romanesque and Gothic architectural styles. The quiet cloister of the cathedral is a cool place for a short rest on a hot summer day. In the square around the cathedral, on Wednesday and Saturday there is a busy market as well as the elegant Halle de Cahors, the covered market, which opens every day except Monday.
Of course, the Cahors region is famous for its red wine, made with the Malbec grape. In Cahors itself there is the Villa Cahors Malbec Lounge where information about the wines and the vineyards can be found and wine may be tasted. Most of the vineyards are to the west of Cahors but only about a dozen kilometres from Mas de Batie is Château de Haute-Serre which produces excellent wine and has an excellent restaurant.
About 15 km to the east of Mas de Batie is Saint-Cirq-Lapopie further up the Lot River. This is one of the most beautiful villages in France. Situated on a cliff 100m above the river, it is full of mediaeval buildings on narrow winding lanes. There are a number of places in the village from which the views of the river and the Lot valley are stupendous.
Other local sites include the exceptional caverns at Pech Merle, with their prehistoric art, and a number of bastide towns, including Villefranche de Rouergue and Villeneuve, or the small city of Montauban, with its Ingres museum. Ninety km to the southeast lies the beautiful city of Albi, a UNESCO world heritage site, with its remarkable medieval cathedral and its Toulouse-Lautrec museum.