Self catering holiday accommodation in the south of France, from the Basque country to Languedoc .
Regions: Southern areas of Midi-Pyrénées, Aquitaine and the Languedoc
Access
Driving times for Languedoc - Gascony
10 to 14 hours from Calais or Lille under normal driving conditions.
Best access routes from the UK, Belgium or Holland:
Western sector - motorways via Orleans
Eastern sector: motorways via Dijon and Lyons, or Orleans and Clermont-Ferrand.
Regional airports:
Toulouse, Montpellier, Carcassonne, Nimes, Pau, Perpignan.
Peripheral airport: Marseilles
Regional information pages:
The
Languedoc region of France

Gitelink

: a directory of self catering holiday accommodation for hire directly from the owners; no agency fees, no commissions. The directory only lists attractive and well located gites, cottages and b&bs in France.
This directory links directly to owners' own websites, which provide a detailed and illustrated presentation of the gite or gites, and - in most cases - of the area in which they are situated.
Gitelink is a directory specialising in rural properties with gardens, or properties in a traditional village environment. Many of the gites in this directory have swimming pools attached.



L'Annuaire Gitelink France est spécialisé en gites traditionnels et locations de vacances dans un cadre tranquil et au calme. Chaque propriété est présentée sur son site web indépendant, avec une description détaillée de la propriété, ainsi que de la région où elle est située. L'exactitude des informations données sur les sites web des gites, est de l'entière responsabilité des propriétaires des gîtes concernés.
Accommodation in other areas of France
Clickable map of France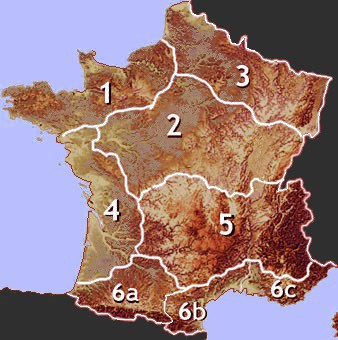 ►

Go straight to the directory: click on the map or select an area for gites
Area information in brief..
MIDI PYRENEES - Gascony
Essential tourist information

The "

Midi Pyrenees

" administrative region of modern France covers a large part of the lowland area between the Massif Central mountains to the north east, and the Pyrenees to the south.
Most of this area consists of plain or of gentle rolling hills, and is not unlike Tuscany in many parts. The region is strongly agricultural, with production of sunflowers, corn, vines and other crops.
The

Pyrenees

, forming a natural land barrier between France and Spain, are a beautiful range of high mountains, thickly wooded on their lower slopes, but offering good mountaineering and hill walking higher up, as well as skiing in winter - not to mention the attraction of day trips into Spain. In the west, the

Basque country

, in the department of "Pyrénées Atlantiques" (administratively part of Aquitaine) is where the Pyrenees, clad with bracken and gorse, come down to meet the Atlantic. The Basque area has its own culture, architecture and language, shared with the Spanish Basque region beyond the Pyrenees.


Biarritz

, on the Atlantic coast, is a very popular resort.
The biggest city in the region, and administrative capital, is

Toulouse

, nicknamed the "pink city" on account of the the abundant and historic use of bricks as building material. Other historic cities include

Albi

, capital of the Tarn, with its astonishing fortified mediaeval cathredal built almost entirely of red brick, or

Foix,

capital of the Ariège. The capital of the Pyrenees,

Pau

, is a delightful city, standing before a backdrop of the high mountains to the south. One other very famous place in the Pyrenees is the pilgrimage centre of

Lourdes

.



Click here for

gites in Midi - Pyrenees


LANGUEDOC




Essential tourist information





This area extends from the peaks and valleys of the

Cevennes

, in the north east, to the Spanish border in the south.
The

Cevennes

, rising to some 1400 metres at their highest, are beautiful mountains, with lush forests on their lower slopes, and open hilltops above. The steep-sided valleys are threaded by roads that twist and turn for miles on end.
In the north of the region, the

Lozere

department is a high dry area stretching from the Cevennes to the Aubrac plateau.
The coastal strip of

Languedoc

is fairly flat, and agricultural, being one of France's biggest wine-producing areas. It is dotted with small villages and towns, very Mediterranean in look and feel. Inland from the coastal plain, and coming right down to the sea in the department of Aude, is the "garrigue", arid rocky Mediteranean hills with their vegetation of scrub, aromatic bushes and occasional fields.
The main cities of Languedoc are

Montpellier

, the regional capital,

Nimes

famous for its superb Roman remains,

Narbonne, Perpignan

, the port of

Sète,

and

Beziers

, which are very meridional in flavour. The city of Carcassonne, with its fairytale mediaeval fortifications (a rather romantic nineteenth-century renovation) is one of the region's most popular attractions. The Languedoc coast offers large expanses of sandy beaches, between rather brash modern or sixties resorts such as

Cap d'Agde

.




Click here for

gites in Languedoc
Owners:


Add your self catering holiday accommodation to Gitelink France: Gitelink is a valuable window for owners offering direct-rental gite accommodation or b&bs in France

For further information in English, check out our gite-owners page

Propriétaires:




Ajouter votre site sur Gitelink France:


Gitelink France est une vitrine Internet efficace pour la promotion internationale de gites et de lchambres d'hôtes en France.
Voir page annonceurs.

Copyright Gitelink France. 2003 - 2016