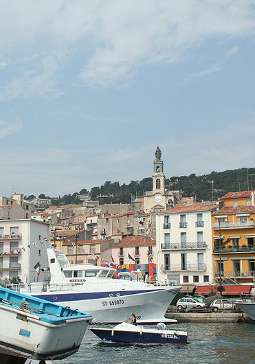 Sete



Photos / images © Gitelink.com
Except photo of Sète by Fagairolles 34
Photo of Montpellier by Greywood
Reproduced under GNU licence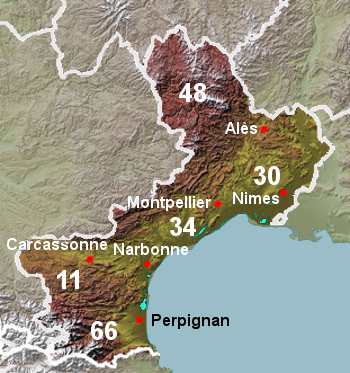 Languedoc Roussillon





Regional capital

: Montpellier



Main towns and cities:



Montpellier

, regional capital and capital of Hérault department (34). 8th largest city in France, with over a quarter of a million inhabitants.

Nimes

, capital of the Gard department (30); second city of the Languedoc Roussillon region, famous for its remarkable Roman remains.

Perpignan

, Capital of the Pyrenees Orientales department, important centre for the fruit and vegetable industry. Major centre for trade and communications between France and Spain.
Other towns and cities of the Languedoc region
Alès

(30 - Gard), former coal mining town, now a small industrial town in the Cevennes, north of Nimes.

Béziers

(34 Hérault) Between Montpellier and Narbonne. Old city perched on a bluff overlooking the coastal plain, once an important point on the main route through Languedoc.

Photo below right

.
Carcassonne : Capital of the Aude department (11). Important tourist centre on account of its world famous mediaeval walled city (heavily restored and rebuilt in the 19th century).

Mende

. Small capital of the Lozère department (48), in the upper valley of the Lot . One of the most isolated departmental capitals in France

Narbonne

; the largest city in the Aude department (11) - in Roman times, the capital of southern Gaul. An important communications hub at the junction of the Mediterrranean coastal route and the Route des deux Mers, from the Mediterranean to the Atlantic.

Sète

: the only port in the region. Southwest of Montpellier. Fishing, freight, and ferries to North Africa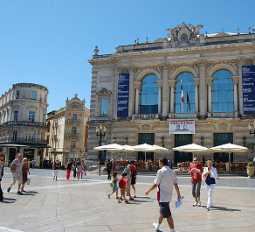 Montpellier