Gites in the Loire valley area

Book directly with owners ! Best rates, and no hidden charges.
Most properties listed on Gitelink can be
booked directly with owners (
🏠

)
, others can or must be booked through booking sites that do not charge the customer extra fees, administrative charges or credit card fees.
Either way, avoid the commissions and fees charged by many online holiday rental agencies, that can add up to 16% to the quoted rental charge – not to mention the commissions charged to property owners.
Key to listings:
Website in English Site en français
Website auf deutsch Website in Nederlands
The Loire valley and Central France area
The Loire valley area covers most of central western France between the southern limits of Brittany and Normandy to the north, and the northen slopes of the Massif Central hills to the south. It is a region of fields and slow flowing rivers, a profoundly agricultural area which includes some considerable expanses of forest in the Sologne, a number of areas of vineyards - notably the vineyards Touraine and Sancerre - and a large area of lakes and wetlands known as la Brenne, a noted area for bird life. It is of course also an area renowned for its historic heritage most visible in the form of its many fabulous châteaux and mediaeval fortresses, such as Chenonceau
(photo)
.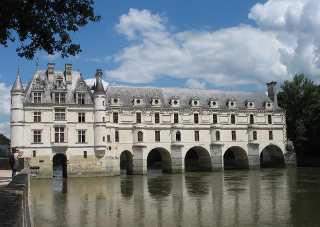 Practical information
Driving times for the Loire valley area:
4 to 7 hours from Calais or Lille under normal driving conditions.
Best access routes
from UK, Belgium or Holland:
Western channel crossings to Roscoff, Cherbourg or Caen. From Calais, motorway via Rouen and Orleans, or (for eastern Burgundy) via Reims.
Regional airports:
Nantes, Tours, Paris