Provence is a part of France that is easy to reach.
Travellers from Britain who don't want to drive can fly to a choice of destinations in or near Provence; but if you want to travel to Provence by car, remember to allow eight to twelve hours' driving from Calais, depending on where your destination is. The alternative solution is to take the Eurostar Provence service, which will take you at high-speed all the way from London St. Pancras to Avignon or Marseille, though direct services do not operate year-round.
---
Flights to Provence
Provence is relatively well served by airports; the main airports serving Provence are located in Marseilles and Nice, with smaller airports at Toulon-Hyères and Avignon.
Nimes airport is just outside Provence.
For visitors arriving in Paris, there are plenty of connecting flights from Charles de Gaulle and Orly airports - or the option of hiring a car.
Low cost carriers
Four airports in or close to Provence are served by direct flights from a number of UK and Irish airports.
Provence & Midi
Carrier
Flights to / from
Nice

Nice city guide
Easyjet

Jet 2
Ryanair


Aer Lingus


British Airways
Air Transat
Air France

2021 Belfast, Bristol, Edinburgh, Liverpool, Manchester, London Gatwick, Luton,




2021 Leeds-Bradford, Manchester, London Stansted


2021 Dublin, London Stansted


2021 Dublin


London City, London Gatwick, London Heathrow



New York

Marseilles

BA
Ryanair
Easyjet


Aer Lingus




Air Transat



London Heathrow
2021 Dublin, Edinburgh, London Stansted, Manchester, Southend
2021 London Gatwick, London Luton, Bristol, Glasgow


2021 Dublin


2021 Montreal

Toulon Hyères
Flybe - now closed
2021 no flights from UK announced
Montpellier
Easyjet


British Airways




Aer Lingus

2021 London Gatwick, Luton,




London Heathrow




2021 Dublin



Nimes
Ryanair
2021 London Luton,
For flights to other French airports, see
UK-France flights guide
---
If driving to Provence

, the easiest way is to take a short Channel crossing to

Calais

(using P&O Ferries, Eurotunnel or others), then follow the French motorway network via Arras, Reims, Chaumont, Dijon, Bourg-en-Bresse, and Lyon, avoiding Paris by passing well to the east. (see right).

Much of the driving will be on fairly clear motorways with a fraction of the traffic found on major UK motorways. However, the Lyon area and the Rhone valley to the south are unavoidable bottlenecks. On

Saturdays

in July and August, traffic jams and slowdowns can occur anywhere, and are virtually guaranteed in the bottleneck areas.

If travelling from

Cherbourg

or

Caen

or

Le Havre

, a good route is to drive via the A71 to Clermont Ferrand, then the A75 then the N102 to (or past) Le Puy en Velay and Aubenas, to join the Rhone valley at Montelimar. This avoids the major bottlenecks, but includes about 180 km on single carriageway roads, through beautiful countryside and hills. And on peak Saturdays, even this route can have slowdowns.


Click for no-tolls route to Provence (with map)

For more information about driving to the south of France in general, see routes from Calais

Click here to

check ferry prices and book

online.

The best route for driving from the UK to Provence:


Click here for route map showing convenient hotels

From

Calais

follow

A 26

motorway to Reims (Rheims).
At

Reims:

join

A 4

, direction Metz Strasbourg.
At

Chalon

en Champagne, rejoin

A 26

, direction Troyes, Lyon.
At

Troyes,

join

A 5

, direction Chaumont, Dijon.
At

Chaumont,

join

A 31

, direction Dijon
At

Dijon,

take

A 39

, direction Dole, Bourg en Bresse
At

Bourg

-en-Bresse, follow

A 40

, then

A 42

, direction Lyon.

Before Lyon

, turn off onto

A 432

direction Airport Lyon St Exupery, Grenoble.

Just after the airport,

join

A 43

direction Lyon, Marseille.

After just 8 km

, turn right (south) onto

A 46

Lyon orbital, direction Marseille.

Thereafter

, just follow signs for Marseille
---
Train / Train and drive to Provence
The most convenient
means of travelling by train from London to Provence is to take the
Eurostar
direct service to Avignon or Marseilles. This is a seasonal service only, and does not run every day.
the alternative is to take a Eurostar train from London, Ebbsfleet or Ashford to Paris or Lille.
Changing to a French TGV at Lille Europe, or at Marne-la-Vallée or at Lyon is easier than changing at Paris, as travellers do not need to change stations or cross Paris; Eurostars and French TGVs share the same platforms at Lille Europe station.
However for most of the year there are very few handy connections, so changing at Paris and crossing from Gare du Nord to Gare de Lyon is often the easiest and quickest option.
Train and drive
to Provence involves taking the Eurotunnel shuttle, then following the motorway as indicated above
Car hire in Provence
Find best rates on car hire in Provence
Click to compare rates
Compare rates at airports, train stations and city locations.
---
Click here to view
Provence gites and holiday cottages
in the Gitelink directory
Photo top of page: in Provençal towns restaurants spill out into the narrow streets, shaded from the midday sun.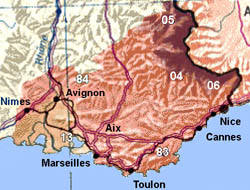 Provence region, covering the French Riviera, the Provence Alps, historic Provence and the area historically linked to Provence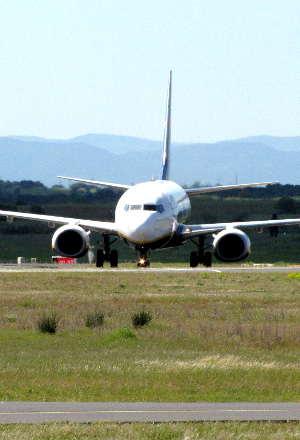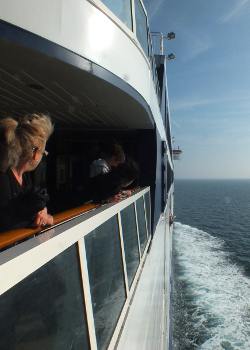 Copyright :
Website and text © Gitelink.com renewed 2021
.