Search for gites in France.
The
easiest
way to search for holiday rentals in France is to browse through the directory page or pages for the region you are interested in. To do so, simply go to the
directory of gites
and click on the region (such as
Normandy
) you are interested in. Alternatively you can use the site search box below. This is particularly useful if you want to search on a particular town or site, and are not quite sure where it is. However, if you are interested in a larger area, notably a region or area such as the "south of France", the search box is likely to produce a lot of rsults, which will make it more complicated than the single click (or sometimes two clicks) needed to reach the appropriate regional page of the
directory of gites
.
Gitelink site search:
search by keyword

Search through the Gitelink website by keyword:
Tips:
Type in any
place name, area, theme
, or other
keyword
. Unless you wish to limit your search to a specific village or very small area, do
not
use very specific place names; choose a
town
such as
Toulouse
or a
department
such as
Charente
. You may however search on absolutely any search term, and if that term is used on the Gitelink website, the search engine will find it.
Type your search term(s) here:
Type your search term into the box:
Search for gites by capacity:
Many holiday rentals have flexible capacity, and do not indicate a precise figure in their directory listing. Those that do use many different expressions. To search on capacity, use search terms (between inverted commas) such as "for 4" or "sleeping 6" or "up to 8". But it is probably better to choose a region, then check through the list of gites available.
Add site: holiday rentals in France


Gitelink is a successful online directory portal for the promotion of independent holiday rentals or bed & breakfast accommodation in France.
See our announcers page for further information.
Propriétaires :



Inscrivez votre site sur Gitelink France:


Si vous avez déjà un site qui présente votre gîte ou vos chambres d'hôtes, qu'il soit ou non inscrit aux Gites de France, cliquez ici pour plus d'informations.
Copyright Gitelink.com 2009 - 2015
► Return to
Gites in France
Holiday rentals
generally known as
gites
, are available in all regions of France. Most of them are rented out by French owners, but there is a significant minority of holiday rentals in France that are owned and run by foreigners - British, Dutch and Germans in particular. There are also gites and bed and breakfast accommodation with Australian owners or American owners, and some of these can be found in this directory.
Renting from English-speaking owners can often simplify the procedure for other English-speakers; but most of the French owners who advertise with Gitelink speak or understand enough English to avoid major problems of communication. Renting from French owners will often be a good solution for visitors looking for the authentic French experience and plenty of local knowledge; though it should be said that many foreign owners have made a particular effort to get to know their region or area, and can provide a wealth of local information too.
Paying for gite accommodation
Payment is no longer a problem anywhere, at least for visitors from the European Union. All European banks have signed up to the SEPA (Single European Payments Area) agreement, and payments can be sent quickly and easily anywhere in Europe once you have the IBAN number of the owner of the accommodation. SEPA transfers are often free, notably within the Eurozone; Swiss and UK visitors will of course pay an exchange commission.
Some of the holiday rentals in this directory are listed with Gites de France, but many are not. The absence of a Gites de France label has no bearing at all on the quality of the accommodation. Click here for more information on the
Gites de France rating system.
Search for gites to hire by area - clickable map: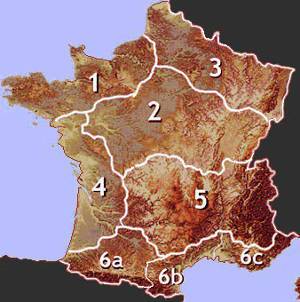 Gites in other regions of France

Gites in other regions of France

France
a guide for visitors
Copyright

Gitelink.com

2003-2015