Area 2 .

Central France, the Loire valley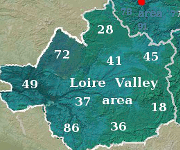 a) The Loire Valley area and centre of France.
This sector covers the following French departments:
18
Cher
, 28
Eure-et-Loire
, 36
Indre
, 37
Indre-et-Loire
, 41
Loir-et-Cher
,
45
Loiret
, 49
Maine-et-Loire
, 72
Sarthe
, 86
Vienne
.
Three latest listings...
New!

Loire valley gite for 2

49

~ A pretty gite set in beautiful countryside offering a tranquil getaway which is still within driving distance of Loire attractions
Loire valley gite & b&b.

49

~ Perfect rural idyll set in the country, yet central to Loire Valley chateaux, rivers and cities; ideal for visiting Loire chateaux and vineyards.
Gites near Amboise

41

~ Two miles from the River Loire. Three beautiful gites sleeping 2, 4 and 6/8 each with private garden area. Heated pool, outdoor games.
36 Gites in Indre
(Southwestern Loire valley area)
Small rural gite in the Indre

36

~

Well equipped one-bedroom cottage in tranquil hamlet near Argenton sur Creuse; private garden, lovely countryside for walking and exploring Central France, pets welcome.
Gite in la Brenne 36 ~ A beautifully restored barn in a tranquil hamlet in the Brenne regional park providing high quality 2 bedroomed accommodation with private drive and garden.
Bed & Breakfast nr Argenton sur Creuse

36

Bed & Breakfast accommodation 10 minutes off the Paris-Toulouse motorway in the Central region with swimming pool and landscaped gardens.
45 Gites in Loiret
(From the Paris region to the Loire)
Attractive gites near Orleans

45

: –

on the banks of the Loire, and with easy access to Paris and Burgundy, two small gites available for a relaxing and quiet stay.
37 Gites in Indre et Loire
(The heart of the "Loire valley", the area around Tours)
Gites near Chenonceaux 37 -

Centfeuilles, a 19th century farm set in a calm location in the heart of the Loire Chateaux area, offers two gites sleeping 5 each.
Three Loire valley cottages

37

~

Beautiful self-catering cottages 15 minutes from the chateau de Chenonceau. 15-acre grounds, fishing lake, large garden, badminton hall, kids playground, fitness room, etc..
Peaceful gites with heated pool

37

~ Two attractive well equipped gites sleeping 10 & 7; private gardens, handicapped friendly. Near Descartes with shops, restaurants. Ideal for Loire Chateaux & Futuroscope.
La Grange - close to Chenonceaux

37

– A comfortable gite sleeping 4 in the heart of chateaux country and one of the finest wine-growing regions of France.
B&B south of Tours

37

–

Four tastefully decorated B&B rooms in a quiet rural setting in the vicinity of Tours, in an area famed for its Loire châteaux and Chinon vineyards.

Gites near Loches

37 - 3 spacious, modernised, luxury gites for 4, 6 and 8 people set in 8 acres. Large heated pool. Private gardens each with gas BBQ.

Gite in Loches

37 - A very comfortable and uniquely located cottage in the medieval centre of Loches. All services accessible on foot, and in the real heart of theLoire Valley.
72 Gites in Sarthe
(Between Normandy and the Loire valley, the area around Le Mans)
Loir Valley - 3h from Paris

72

~-

Gites and B&B with pool twith easy access to the la Flèche zoo and the château du Lude. Peace and quiet guaranteed at this old watermill in the heart of the coutryside
18 Gites in the Cher
(South of the Loire - the centre of France)
Village gite for 4 in the Sologne 18 – Small attractively furnished gite for four people, in a village 30 miles southeast of Orleans. Gardens, terrace, free bicycles, barbecue.

86 Gites in Vienne ( Between the Loire valley and the Charentes)

Between Vienne et Charente 86 Three small gites in picturesque hamlet in the heart of the peaceful countryside at the edge of a traditional village in the Vienne area.

Organic sheep-farm gite

86 - Two small gites offering classic family Gite holiday on a beautiful traditional organic sheep farm overlooking the Vienne valley
41 Gites in Loir et Cher
(The heart of the Loire valley area, around Blois)
Loire valley near Chenonceaux

41

–

Two gites with heated swimming pool beside the river Cher, in the heart of the Loire valley, ideal for the Chateaux of the Loire.
Gites near Amboise

41

~ Two miles from the River Loire. Three beautiful gites sleeping 2, 4 and 6/8 each with private garden area. Heated pool, outdoor games.
49 Gites in Maine et Loire
(Lower Loire area, around Angers)
28 Gites in Eure et Loire
(North of this area: to the west of the Paris region)
Sorry, we do not have any gites in this area

The Loire valley and Central France area
The Loire valley area covers most of central western France between the southern limits of Brittany and Normandy to the north, and the northen slopes of the Massif Central hills to the south. It is a region of fields and slow flowing rivers, a profoundly agricultural area which includes some considerable expanses of forest in the Sologne, a number of areas of vineyards - notably the vineyards Touraine and Sancerre - and a large area of lakes and wetlands known as la Brenne, a noted area for bird life. It is of course also an area renowned for its historic heritage most visible in the form of its many fabulous châteaux and mediaeval fortresses, such as Chenonceau
(photo)
.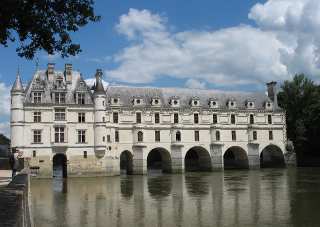 Regional information pages:
The
Centre region of France
The
Pays de la Loire region of France
The
Burgundy region

This directory lists only selected self-catering holiday cottages, villas and B&Bs that come up to the Gitelink quality standards. Each site is the individual responsibility of the owner of the property, and contains a detailed and illustrated presentation of the gite and - in many cases - of the area in which it is situated.
B and B in the Loire valley
Click the links for

full details and photos or each gite

listed
Key to listings:

Website in English

Site en français
Website auf deutsch

Website in Nederlands
Loire valley area
Driving times for the Loire valley area:
4 to 7 hours from Calais or Lille under normal driving conditions.
Best access routes
from UK, Belgium or Holland:
Western channel crossings to Roscoff, Cherbourg or Caen. From Calais, motorway via Rouen and Orleans, or (for eastern Burgundy) via Reims.
Regional airports:
Nantes, Tours, Paris
Gites in other areas of France: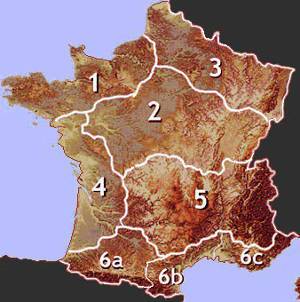 The regions of France
Gites in other regions of France

Owners:
Add your gite, villa or b&b to Gitelink France, a selective directory where sites do not get lost among thousands of others. For full details, visit our
gite owners
page. For other enquiries, click here
to email
Propriétaires:
Ajouter votre site sur Gitelink France:
Pour inscrire votre gite ou villa, consultez nos informations
propriétaires
..
Copyright Gitelink 2017
Promoting gites since 1999