Self catering holiday accommodation in central France, from Anjou and the lower Loire valley to Franche Comté and the Jura.
A choice of attractive and affordable rural gites and villas for hire directly from the owners.


Loire valley area : Access
Driving times for the Loire valley and Burgundy areas :
4 to 7 hours from Calais or Lille under normal driving conditions.
Best access routes
from UK, Belgium or Holland:
Western channel crossings to Roscoff, Cherbourg or Caen. From Calais, motorway via Rouen and Orleans, or (for eastern Burgundy) via Reims.
Regional airports:
Nantes, Tours, Paris.
Train: Eurostar to Paris or Lille: TGV connections for Le Mans, Angers, Tours, Dijon, Besançon.
Self catering gites in other areas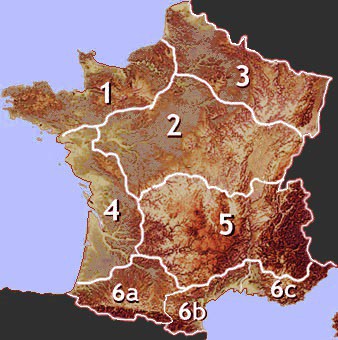 Information about France
Guide to the regions of France
Paris region, Loire Valley, Burgundy and Franche Comté (the Jura)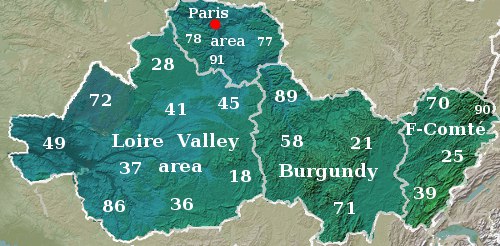 Regional information pages:
The
Centre region
of France
The
Pays de la Loire region
The
Burgundy region
Franche-Comté
►

West:

click on the map for

gites in the Loire valley area:


Central France - the Centre region and most of the Pays de la Loire region, plus the department of Vienne.

Main towns

: Orleans, Tours, Le Mans, Angers, Poitiers

►

East: click on the map forgites in the Paris region, Burgundy, and the Jura:
The Ile de France and the Burgundy and Franche comté regions lying between Paris and the Swiss border.

Main towns

: Paris, Dijon, Besançon.
►

Select the western sector for the following
departments:

18 Cher, 28 Eure-et-Loir, 36 Indre, 37 Indre-et-Loire, 41 Loir-et-Cher,
45 Loiret, 49 Maine-et-Loire, 72 Sarthe, 86 Vienne.

►

Select the eastern sector for the following
departments:

Paris area: 75, 77, 78, plus 91 to 95


Burgundy:

21 Côte d'Or, 58 Nièvre, 89 Yonne, 71 Saône et Loire:

Franche-Comté:

39 Jura, 25 Doubs, 70 Haute Saône, 90 T de Belfort

---
For some of the gites presented in this listing , booking must be made through Gites de France.

The

Gitelink France directory

- a showcase for affordable privately owned holiday accommodation in rural France. Each gite, villa or b&b is presented in detail on its own individual website, with photos, regional information and prices.

L'

Annuaire Gitelink France

présente des liens vers des gites et locations de vacances sélectionnés. L'exactitude des informations données sur les sites web des gites, est de l'entière responsabilité des propriétaires des gîtes concernés.


Owners:


Add your self catering gites or B&B to Gitelink France: Gitelink is a valuable window for owners offering direct-rental gite accommodation or b&bs in France
For further information in English, check out our gite-owners page

Propriétaires:




Ajouter votre gite ou vos chambres sur Gitelink France:


Gitelink France est une vitrine Internet efficace pour la promotion internationale de gites et de lchambres d'hôtes en France.
Voir page annonceurs.

Copyright Gitelink France. 2003 - 2014