Hidden France - well off the beaten track

France is a large country - the largest in Western Europe. It is also the world's most popular tourist destination. But as in any country, tourism in France tends to be mostly concentrated in a small number of regions and areas. Six areas of France attract the lion's share of tourists: Paris, the Alps, Provence and the Riviera, Languedoc, the Loire valley, and Brittany. Yet even in these well frequented areas, there are plenty of spots well away from the crowds.
As for the rest of France, get away from the main towns and main motorways, and France is a vast and fairly empty place, with many rural areas where the population today is less than it was a hundred years ago, and the small towns and villages still have a pace of life that is far removed from the hectic frenzy of the cities, the beach resorts, and other main stops on the tourist circuit. But before going into the details, it's not a bad idea to dispel a few myths about rural France, myths propagated daily by the hyperbole and exaggeration of much of the travel press, not to mention travel agents and even local tourist offices. Rural France is not some real-life Disneyland; the "old villages" are not really "undiscovered", few of them are "mediaeval", and throughout France, even in its remotest corners, towns have supermarkets, people drive modern cars, farmers use modern machinery, and the locals have highspeed Internet. Unless (as could perhaps be argued) the Middle Ages lasted in rural France up until the 19th century, the word "mediaeval" is probably the most misused, abused and misleading word in the vocabulary of tourism, when applied to France.
This article is about places that are

relatively

undiscovered, places in France that don't attract the kind of mass tourism that they would if they were more on the beaten track. And be sure, although it is the world's most popular tourist destination, France is still a country with plenty of places that really are off the tourist trail.
In every region of France, there are areas that are passed by by the crowds. Deepest rural France even stretches into the fringes of the

Paris region

, notably the south of the region. The Forêt de Fontainebleau is a large forested area, well provided with hiking trails, and dotted with rocky outcrops; in the heart of it lies the village of Barbizon, once the mecca of landscape artists. And in the rural west and the east of the region, dotted with small villages and farming communities, the relative proximity of the Parisian metropolis can seem hard to imagine.

Far more rural, however, are the regions of France that lie in a large arc running from the

Ardennes

in the northeast, to the

Aquitaine

in the southwest. Known in France as the

Diagonal of emptiness

, this band, covering about half of the territory of France, has always been relatively lightly populated, and remains to this day - outside the regional centres - the heartland of rural France, and largely undiscovered except by the people who live there. Several departments in this area have a population density lower than 40 inhabitants per sq. km, less than a third of the average for metropolitan France. They include most of the

Massif Central

mountains, notably the

Lozere

department, with just 15 people per km² - which is virtually empty.

Relatively undiscovered regions
While all the regions of France have lots to offer in terms of landscape, heritage, and attractive accommodation, three deserve particular attention: Franche Comté in the east, Auvergne in the centre south, and Midi Pyrenees in the southwest. For a more detailed look at these areas, visit their pages on the Regions of France section of About-France.com.



2016 :

Auvergne.

Classed No 6

in

Lonely Planet'

s top ten regions of the world to visit.

See

Gitelink Auvergne guide

Franche Comté lies just to the north of Switzerland, and comprises most of the French Jura mountains. It is a beautiful rural area, famed for its cheeses and its clocks: the regional capital Besançon is a UNESCO world heritage site, and the whole area has masses to offer. Auvergne is another mountain region, and like Franche-Comté it has masses to offer in terms of natural heritage and scenery, and even more in terms of historic monuments and cultural tourism. Lying off the main traditional routes to the south of France, it has not developed its huge potential in terms of outdoor tourism. Midi Pyrenees, stretching from the Auvergne to the Spanish border, is the largest and one of the most rural regions of France. Larger than Belgium, it is very diversified, but full of history, magnificent landscapes and opportunities to enjoy a break well away from the crowds.
Other regions that can be recommended include Burgundy - rather touristy along the wine trails, but otherwise quite off the beaten track - and Limousin, which is a very rural area of hills and valleys to the west of the Auvergne


Recommended coastal areas of France
France has a long coastline, and though none of the French coastline is remotely undiscovered, there are parts that have room for everyone. In July and August, beaches are packed in all the popular resorts - but even at this time of year there are plenty of places where holidaymakers can stretch out on the sand in relative seclusion. With its hundreds of kilometres of sandy beaches, the Atlantic coast of Aquitaine, once you get away from the resorts, has plenty of deserted beaches, .... some of them best reached on a bicycle. North of the Gironde there is still plenty of room on the beaches, except in the main resorts of which there are not too many. Even in Brittany and Normandy, while solitude is not easy to find, beaches with space on them are not rare - rocky sandy coves on the north coast, broader sandy beaches on the south. As for visitors looking for Mediterranean beaches off the beaten track, they are not completely impossible to find. In Languedoc, the beaches are so long that there is always plenty of space on them away from the tourist hubs. The problem may just be finding an undiscovered car park. More information on the coasts of France .


Driving off the beaten track in France

The choice for driving down through France on byroads is enormous: but for those in search of suggestions, here are two sample routes, almost all on small roads, and taking in plenty of interesting towns and countryside. Particularly interesting towns are underlined.
Check out About-France.com's Driving section for all you need to know about driving in France.


Two sample routes through France, based on byways and minor roads

►

1. From

Cherbourg or Caen

: follow a route via Flers, Mayenne, Laval, La Flèche, Saumur, Loches, Chateauroux, Guéret, Ussel, Aurillac, Rodez,

Albi,

Castres and Carcassonne.

►

2. From

Calais

: take the

A26 motorway

as far as Laon then follow either of these two non-motorway routes:

a) Reims, Vitry-le-François, Saint Dizier, Chaumont, Langres, Gray,

Besançon,

and Lons-le Saunier, and then by various routes in function of your intended destination (Switzerland, the

French Alps

, the South), or...

b) Reims, Epernay, Troyes, Auxerre, Avallon, Autun, Guegnon, Lapalisse, Vichy, Thiers, Ambert, Le Puy en Velay, Langogne, Aubenas, Alès, Nimes.

►

Going further? visit

undiscovered Spain
Hidden gems in France
Several of the towns underlined on the itineraries above are "hidden gems", others less hidden. Here is a random selection of other small towns in France that are definitely worth making a detour for: Dinan in Brittany, Bayeux in Normandy, Ornans in Franche Comté, Rochefort in Poitou Charentes, Cahors in Midi-Pyrenees, Orthez in Aquitaine, Bourges in the Centre region,

Le Puy

in Auvergne (photo right), or Arles in Provence. These small towns are by no means unknown - they all cater for tourists; but they are the kind of place, very common in France, that are more visited by French than by foreign tourists. They are the not-too-hidden gems of provincial France.
As for the really hidden gems, there are hundreds or thousands of these, just waiting to be discovered, and right off the beaten track . But of course, the distinguishing point about hidden gems is that they are not on the normal tourist circuits, but places waiting to be discovered on the off chance by people passing through. To list them would therefore be not only impossible, but also a contradiction in terms. Hidden gems are places discovered through a process of exploration and chance encounters, and by each traveller according to his own choices and priorities. For a good starting point, check out the Regions of France section and the Favourite smaller cities list on About-France.com.


The "most beautiful villages in France".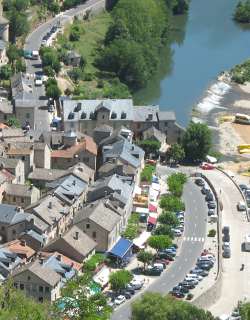 The most beautiful villages in France

draw in the crowds...

Much is made in tourist literature and brochures about the "most beautiful villages in France"

Les plus beaux villages de France.

And to be honest, most of these are beautiful villages. But it should be noted that the title "One of the Most beautiful villages in France" is a quality label for which villages pay a subscription which they hope will be more than offset by increased tourism revenue – which is usually the case. As a result, a good number of "most beautiful villages in France" now swarm with tourists in the holiday season and even beyond. Former village shops and houses have been tranformed into restaurants, arts and crafts shops, cafés and tearooms and souvenir shops – which is all very well for the local economy but somewhat changes the nature of the villages. Some examples of two most beautiful villages that have become very touristy are Salers in the Cantal, Sainte Enimie in the Gorges du Tarn, and Saint-Cirq Lapopie in the Lot; which are very pretty, but certainly not the kind of place to visit in the holiday period if you are looking for places off the beaten path.
Over and above the officially listed "most beautiful villages in France", there are thousands more very pretty villages in France that have never applied for the label but are inherently just as pretty as many of the officially labelled villages. It's just a matter of setting out on the byroads of France, on your own voyage of discovery, and finding them. Or click for an alternate selection of beautiful villages in France


Accommodation
The small towns of rural France mostly have accommodation in the form of small hotels, generally independent establishments that may have been in the same family for generations. There are also modern hotels - when the town is big enough to justify the need, but even these are often independent or local chains, set up by people with good local knowledge. The big national hotel chains are wary of setting up in this territory, except along main roads and in local capitals. In rural areas, most accommodation is in the form of occasional wayside hotels, or else gites (country cottages) or bed and breakfast. And of course there are plenty of campsites throughout rural France, though not too many of them stay open all year - or at least, not officially.


Some useful sources of accommodation information: