This page covers Gitelink

area 5 east,




Gites and traditional chalets in the French Alps, Jura mountains and Saône valley area.


For other regions, click on the map below or return to the Gites index page


The Alps

are the highest mountains in Europe, and Mont Blanc, on the border between France and Italy, is Europe's highest peak. The high French Alps are a dramatic and environmentally-sensitive area, where snow lies all year round in some spots; this is an area for hardy hikers and mountaineers. The lower Alps, the alpine foothills of the Vercors, and the Jura, offer beautiful mountain environments ideal for many outdoor pursuits, and appeal to nature-lovers. The highest areas are located along the Swiss and Italian borders, and it is here that two of France's national parks are located. Click for

Climate and weather in the French Alps

The city of Lyon, situated in department 69 (map) is France's second metropolis, and the area to the north east of it, betwen the Saône and Rhone rivers, is a large fertile plain, the Bresse, dotted with small lakes and popular with anglers and ornithologists.


Franche-Comté


To the north of the French Alps lies the Franche-Comté region. Franche-Comté is a fairly lightly populated area of gentle hills and meandering rivers. The larger part of the Franche-Comté region consists of the French Jura hills or mountains, which run north from Geneva, their highest peaks marking the border between Switzerland and France. Unlike much of France, the hills of the Jura tend to remain green most of the summer, being periodically watered by short sharp summer storms that keep the meadows full of the grass that provide grazing for the cows that produce the region's famous cheeses, Comté, Gruyère, Mont d'Or and others. The Jura is a delightful region, unduly underrated, and a fine area for rambling, hiking, cycling and other outdoor pursuits. There are plenty of gites in Franche Comté, but few with English-speaking owners, since this is not a region which has seen a large influx of British expatriates.

The region's capital city, Besançon, lying in a loop of the river Doubs, is one of the most attractive old cities in France, and one with a rich cultural heritage.

Cette page couvre le secteur 5 est sur la carte ci-dessous. Cliquez sur la carte pour les autres régions de France.
La chaîne des Alpes est le massif montagneux le plus important d'Europe, culminant au sommet du Mont Blanc, sur la frontière franco-italienne. La haute montagne est une zone écologiquement sensible, et certaines parties restent enneigées à longueur d'année. C'est une région pour alpinistes et randonneurs chevronnés. Les Préalpes, le Vercors et le Jura offrent un bel environnement de montagne plus accessible aux activités de plein air, et un cadre apprécié des amateurs de la nature. Les plus hauts sommets sont situés le long de la frontière avec la Suisse et l'Italie.
La ville de Lyon (69) est la 2° ville de France, au nord de laquelle on trouve - entre Saône et Rhône - une grande plaine fertile, la Bresse; parsemée de lacs et de mares, la Bresse est un haut lieu de la pêche et très riche en oiseaux. Plus au nord et à l'est on trouve la région Franche-Comté, région à faible densité de population, et caractérisée par ses doux paysages de collines et de vallons verdoyants.
Access :

Driving times:
from Calais or Lille: 5 to 9 hours under normal driving conditions, depending on destination.

Airports:
Basel-Mulhouse, Geneva,
Lyon St Exupéry
, Grenoble
Gites in other areas of France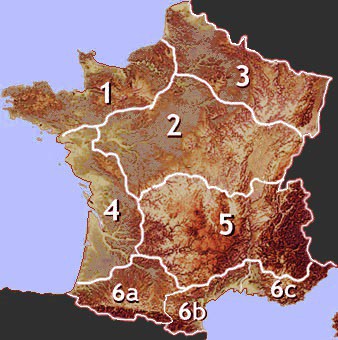 Area 5 east -

French Alps & Rhone-valley areas


Lyon area and northern Alps




Includes the area around Lyon, the Saône valley area, areas east of the Rhone, and the High Alps.

Comprend les secteurs et départements suivants:

Val de Saône : 71 Saone et Loire, 01 Ain; Alpes du nord: 05 Hautes Alpes, 26 Drome (nord), 38 Isère, 69 Rhône, 73 Savoie, 74 Haute Savoie,


Websites in English

Sites en français

Websites auf Deutsch

Websites in Nederlands
Click on any link

below for a

detailed description

of the property, with

photos and prices
Cliquez sur un des liens

ci-dessous pour un

descriptif détaillé du gite

, avec

photos et tarifs
New!

B&B near Chambéry

38

Nestled in the tranquil environment of the Chartreuse natural park, Montchâteau looks out over a stunning vista of trees, fields and mountains. Walking and biking trails abound .

En bordure du Parc Naturel Régional de la Grande Chartreuse, Monchâteau propose des chambres d'hôtes raffinées dans un cadre rural paisible entre Chambéry et Grenoble.



Between Lyon & Grenoble

38

-- Delightful gite tastefully furnished & decorated, in an old building with enclosed garden. Two big bedrooms. close to Lake Paladru and many castles.

Gîte charmant, meublé et décoré avec goût, dans bâtiment ancien avec jardinet clos, 2 chambres spacieuses, à proximité du lac de Paladru et de nombreux châteaux.

City gite in old Lyon 69 - Small quality gîte or B&B in a Renaissance tower in the heart of old Lyon, with panoramic views out over the city.

Appartement d'hôtes avec chambre en duplex situé dans une tour d'un immeuble renaissance au coeur du Vieux- Lyon. Vue panoramique sur tout Lyon. Le charme du style renaissance dans un aménagement contemporain.

B&B in Alpine hamlet

74

+ Located in an Alpine hamlet between Thonon (on Lake Geneva) and Bellevaux, this bed and breakfast is in an old watermill. 15 miles from ski slopes at Morzine. Packed lunches can be supplied.

Dans un hameau alpin entre Thonon / lac Léman et Bellevaux, ces chambres d'hôtes sont dans un ancien moulin. Posibilité repas tirés du sac.

B&B in Vercors regional park 26 Four B&B rooms are available at the Ferme de Fontpaisse. Friendly welcome, outdoor pool, no-smoking. Lounge with fireplace and TV. Online booking.

Quatre chambres d'hôtes dans cette vieille ferme du Vercors; cadre rural idyllique, piscine extérieur, possibilité réservation en-ligne.

English-speaking B&B near Annecy

74

+ Cosy Auberge B&B with restaurant betweem Geneva, Annecy, Chamonix in the French Alps . Ideal for stopover or discovering our hidden secrets of the Alps.

Auberge douillette avec table d'hôte, entre Genève, Annecy et Chamonix, au coeur de la Savoie. Idéal pour étape ou pour découvrir les coins cachés de la montagne savoyarde.




Région Franche-Comté - Jura:


We are very sorry but the Gitelink directory does not currently have any gites or holiday cottages to suggest in this region.
Nous sommes désolés, mais l'annuaire Gitelink n'a pour l'instant aucun gite à proposer en Jura / Franche-Comté.





Search further north:

Gites in Alsace and Lorraine


Search further south:

Gites and villas in Provence and the southern Alps

Pour certains des gîtes présents dans cet annuaire , la location s'effectue via les Gites de France
For some of the gites presented in this listing , booking must be made through Gites de France

What our customers say:


** " I'd just like to mention that I have been very happy with your service and the bookings that have come through your site."

E.M., western France


** "We thank you for the service, and are pleased with the results"


J.D. Brittany


** "Just to let you know I'm very pleased with the click throughs from Gitelink - I'm averaging 4 a day from you"


G.S. South west France.





Owners: list with Gitelink


With an exceptionally high ratio of visitors to properties listed, Gitelink offers great visibility at very competitive prices for gite owners.
Click here for more details

Propriétaires :


Annoncez votre gite ou vos chambres d'hôtes sur Gitelink, annuaire sélectif de gites et locations de bonne qualité. Près de

200 000

personnes ont visité ce site en 2010 - pour bien plus d'un

demi million de pages vues -

offrant ainsi une excellente visibilité aux sites inscrits, compte tenu d'un rapport exceptionnellement favorable entre sites inscrits et visiteurs.

Pour plus d'informations sur l'inscription à Gitelink France,

cliquez ici