Reasonably priced quality self catering in Provence

Attractive gites, holiday villas and b&b accommodation in Provence and on the Riviera, for hire directly from the owners – a selected choice of modern and traditional accommodation in this most popular tourist region of France.

Provence is a region with a strong reputation as a place where life means sitting back and relaxing by the pool or the sea, and enjoying the good life in the beneath an azure sky. Whether it's for a year in Provence or just a week, this is one of the French regions that people from the north love to escape to. France's most truly Mediterranean region is a land of bright blue skies, even in winter, of olive trees, pastis, vineyards, wild rosemary and the scent of pine trees. But the region also spreads right up to the Italian border, through the dry ravined hills of the Mediterranean hinterland and the Provencal Alps. On the coast, known as the "Cote d'Azur" to the French, and the "French Riviera" to English-speakers, rocky shores give way here and there to some of the world's most famous beaches, at Cannes, Nice or Saint Tropez. Naturally, in summer the French Riviera is a very busy region, yet at other times of the year - away from the cities of Marseille, Toulon and Nice, it is less so.
There is a common belief that "Provence" means all of Mediterranean France; it does not. West of the Rhone delta, the area is known as

Languedoc

.
The official Provence region only includes the departments of Bouches du Rhone, Var, Vaucluse, Alpes Maritimes & Alpes de Haute Provence



Access:
Driving times: from Calais or Lille: 9 to 12 hours under normal driving conditions, depending on destination.
Main airports: Marseilles, Nice



Click map for gites in other areas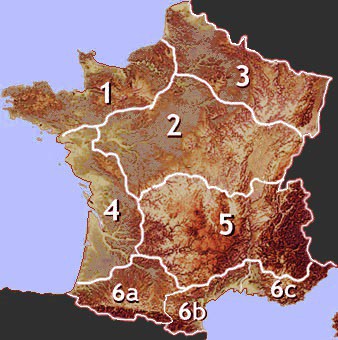 Information about France
© 1999 - 2012 Gitelink France
Established in 1999

Sector 6c

: Provence, Riviera and southern Alps

Includes historic Provence, the Riviera and the southern Alps - departments
04 Alpes de Haute Provence, 06 Alpes Maritimes, 13 Bouches du Rhone, 83 Var, 84 Vaucluse, and a part of 26, "Drome provençale" and the Gard (30), "Gard Provençal"
Click on any link below for a detailed description of the property, with photos and prices
►

Latest additions / Les derniers inscrits

New !

Bastide in the Var + In large shady grounds, in the heart of the Var, with swimming pool and fabulous views, two family gites for 4 - 5 and a delightful smaller gite for 2 - 3 persons. .

New !

Between Aix and Salon de Provence

13

The 'Maison de Marie' is a villa with four to six bedrooms, a large garden and large pool, and year-round sunny climate.
► ►
Gites by department
(departments in random order)
18th Century bastide B&B, Luberon 84 + surrounded by vineyards and orchards; b&b in this charming Provence bastide, near Gordes, that has been in the family for 5 generations.
Provence gites 26 + La Françonne, Drôme provençal. Three well equipped gites, with pool and air-conditioning in rural setting with a view, just outside Mirabel aux Baronnies. One other (up to 10 visitors) in the village
Provence / Riviera Gite & B&B 83 + Set amid the vineyards, La Grande Lauzade offers a gite and attractive b&b accommodation, with pool, in a restored 18th century winery.
Rural Var, near St. Maximin 83 + Five self catering gites in charming 18th century restored bastide on a 250 acre vineyard in the heart of Provence. Large swimming pool.
Gite near Fréjus

83

~ Air-conditioned gite and B&B in Provençal villa with large pool and jacuzzi. Panoramic views. Five acres of grounds, 7 miles from the sea. Calm, palm trees, wi-fi.
Provence gite near Near Aix 13 + Delightful gite for 4-6 people in the heart of Provence; an old mill in a wild natural environment, set in grounds of 1.5 hectares.
Gard Provencal near Uzes

30

- Ancient Provencal ' Mas' with 2 luxurious gites and heated pool in 7 acres of lovely grounds by the mediaeval hilltop village of Lussan.
Cevennes château gites

30

- 12th Century Château, set in its own 200 acres, with pool, river, medieval courtyard. 5 self catering gites or whole Château for rent.
Extend your search /
Etendre votre recherche..
..
Owners:

add your gite to Gitelink :


List your gite or rental property with Gitelink.


Click for full customer reviews and details Gitelink France provides valuable Internet visibility for owners wanting to advertise self catering in Provence, holiday cottages or gites in this or other regions of France.

Ajouter votre site sur Gitelink :
Toucher une clientèle internationale pour votre gite. Voir page annonceurs.
L'annuaire Gitelink référence des gîtes de bonne qualité, qu'ils soient ou non labellisés Gites de France .
For bookings and information please contact directly the owners of the property concerned : do not contact Gitelink France.