A selection of self-catering accommodation and gites in Auvergne and Limousin - the uplands of southern central France.



Most the central southern French regions of Auvergne and Limousin consist of unspoilt hill and mountain country. Sparsely populated, it is an area with a few popular resorts, but beyond that thousands of square kilometres of open hills, valleys and countryside. The uplands are crossed by deep river valleys, including the upper Dordogne, Allier, Loire, and Lot. Apart from two regional capitals, Limoges, the capital of Limousin, and Clermont Ferrand the capital of the Aubergne, this is a region of small rural towns and villages, a region far from the madding crowds. It's a region for relaxing, where nature can be enjoyed to its full extent.
Most of the gites listed on this page are in very rural locations.
Visit the Gitelink Auvergne Guide for more information on the beautiful Auvergne region.






Access

:

By car:

Auvergne / Limousin driving times: from Calais or Lille: 6 to 10 hours under normal driving conditions, depending on destination.


By plane:

Airports: Limoges, Lyon, Clermont Ferrand, Rodez,

Airlines serving this region: Flybe Easyjet Ryanair.

Confirmed for 2012:

Flybe service from Southampton to Clermont Ferrand



Gites and villas in other areas (clickable map):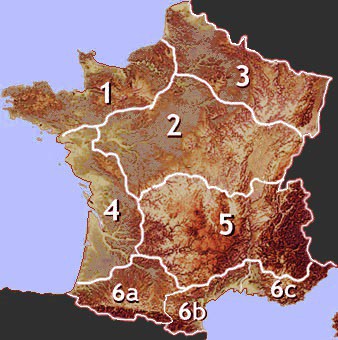 ►Owners / Propriétaires


Add your self catering holiday accommodation to Gitelink France: Gitelink is a valuable window for owners offering direct-rental gite accommodation, villas or b&bs in France

For further information in English, check out our gite-owners page .



What our customers say:


** " I'd just like to mention that I have been very happy with your service and the bookings that have come through your site."

E.M., western France

** "We are extremely happy with your site.You produced 97 out of the last 500 hits to our site. The next 'link' site produced 45 hits so you are producing the goods"

T.F. southern France

** "Just to let you know I'm very pleased with the click throughs from Gitelink - I'm averaging 4 a day from you"

G.S. Aquitaine




© 2013 Gitelink France - established in 1999

Auvergne, Limousin, & N. Massif Central
Includes the following departments
Auvergne region:
03 Allier, 15 Cantal, 42 Loire, 43 Haute Loire (upper Loire) , 63 Puy de Dome
+ the Loire department (42), Forez and Livradois
Limousin region:
19 Corrèze, 23 Creuse, 87 Haute Vienne


Main towns & cities :
Clermont Ferrand,

Limoges

, Moulins, Saint Etienne, Le Puy en Velay

Websites in English

Sites en français
Websites auf Deutsch

Websites in Nederlands.
Click on any link below
for a detailed description of the property, with
photos and prices
Gites in Auvergne:
Gites in Limousin
For some of the gites presented in this listing , booking must be made through Gites de France
► Return to
Gites in France