BED and BREAKFAST

in the North of France -

2015

B and B in Nord-Pas-de-Calais, Picardy, Champagne, Lorraine and Alsace

-

Bed and Breakfast and guest house accommodation, often with evening meals too


Quiet b & b's near the coast and in the towns and countryside from the area round Calais across the fields of Flanders and the vineyards of Champagne, to Alsace and the Rhine valley
B&B accommodation in the north of France, from Brittany and Normandy to Champagne, Lorraine and Alsace - areas 1 and 3.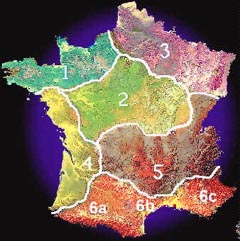 An attractive B&b in Lille
Sponsored links:



Bed & Breakfast in north east France

includes North France, Picardy, Champagne, Lorraine and Alsace regions - and most of the First World War battlefield areas
Click on any link below for a detailed presentation with prices and photos

The departments of Nord & Picardy
59 Nord, 62 Pas de Calais, 02 Aisne, 82 Somme, 60 Oise
The departments of Champagne-Ardenne, Lorraine & Alsace
08 Ardennes, 10 Aude, 51 Marne, 52 Haute Marne, 54 Meurthe et Moselle, 55 Meuse, 57 Moselle, 88 Vosges, 67 Rhin, 68 Haut Rhin
a B&B in North France & Picardy
Chambres B&B Lille

59

+ In beautiful street in the old Lille, within 2 minutes' walk of the main square, these fully renovated and decorated studios are located in an eighteenth century building.
B&B south of Cambrai 59 B&B on traditional northern farm 8 miles from exit 9 of A26 motorway. 5 ensuite rooms, childrens playground, wifi. 40 km from Péronne Great War museum.
10 miles south of Calais

62

+ Les Jardins d'Eugénie. Chic B&B - five rooms - in this house in a very rural setting ten minutes south of Calais, 5 miles from the beach. Sauna and jacuzzi. 2 miles from A16 exit 36.
B&B in WW1 battlefield area

62

B&B between Bapaume and Albert, on the border between Pas de Calais and the Somme. En-suite rooms, garden, wifi. Meals provided if ordered.
Farm B&B near Péronne 80 Farm in the Somme valley with 5 ensuite B&B rooms. Homemade produce at breakfast, other meals possible. Bikes available; farm onsite. Close to many Great War memorials and sites.
Farmhouse B&B Baie de Somme

80

A renovated farmhouse in a very calm location, just a kilometre from the dunes and the beaches and 2.8 km from Cayeux-sur-Mer. Close to Baie de Somme nature reserve and steam railway. 5 B&B rooms.
b B&B in Champagne region
Champagne chateau accommodation 51 Charming 17 Century chateau in the Champagne region. We offer b&b accommodation from 2 - 32 guests in our tower, gatehouse or chateau.

Champagne vineyard B&B

51

Five clean and spacious rooms in this small Champagne winery 15 minutes from Rheims. Very convenient location for Champagne vineyard tours. Online booking.
c B&B in Lorraine and Alsace
Add your property to
BandB-in-France.com
The Gitelink / BandB-in-France directory provides good online visibility for gites and bed and breakfasts in France. See the Gitelink
owners page
for full details