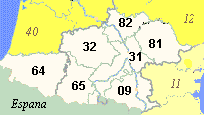 Western and central Pyrenees,
Gascony & Tarn
Including the following French departments :
09 Ariège, 31 Haute Garonne, 32 Gers, 64 Pyrénées Atlantiques, 65 Hautes Pyrénées, 81 Tarn, 82 Tarn et Garonne.
Includes historic regions of
Béarn, Basque country, Armagnac & Gascony.

🏠
Book directly with owners
Flags indicate the languages in which each property is presented:
Gite avec site en français Gite with website in English
Website auf deutsch Website in nederlands Enlaces en español.
The most recent additions
New!

An hour south of Toulouse 31

🏠

Sole use gite for 6 visitors, attached to main house. Two bedrooms, heated pool, fully refurbished. Wifi, bikes, PS4, gas BBQ, large garden, rural. 15 mins from shops. Easy access to the Pyrenees.

New!

B&B in Pyrenean foothills 65

🏠

Near Lannemezan in the foothills of the Pyrenees, a B&B for up to 8 guests, plus small campsite with six pitches. Tranquil setting, far from the madding crowd, relaxed atmosphere.

New!

Between Dordogne & Gascony 82 Large holiday house nestled in the countryside ideal for 15,16 or 18 people, several families or groups of friends. Exclusive use pool and garden.
Gites, listed by department
- Departments are listed in random order
Gites in the Tarn - 81
Gites in Pyrénées Atlantiques and Hautes Pyrénées - 64 and 65
Gites in Ariège - 09
Gites in Tarn et Garonne - 82
Gites in the Gers 32
Gites in Haute Garonne - 31
Gites in the Lot - 46 - and Aveyron - 12
Copyright Gitelink.com 2003-2022
Owners - Add your gite to Gitelink France:
Gitelink is a directory specialising in in good quality good-value French gites and holiday accommodation, and listing only properties with character, notably gites in rural areas

The Gitelink selection
Traditional gites in Gascony and Midi-Pyrenees
Best rates, no extra fees !

With Gitelink, you deal
directly with owners
, or else
only
with booking sites that do not charge the customer extra booking fees, administrative charges or credit card fees.
Gitelink - the independent gites directory online since 1999 - lets you
book directly with owners
, avoiding the commissions and fees charged by many online holiday rental agencies. Click the links for full details and photos or each gite listed listed
Ferienwohnungen in Sudwestfrankreich - von den Pyreneen zum Tarn
Alquiler de casas rurales en los Pireneos franceses y el entorno de Tolosa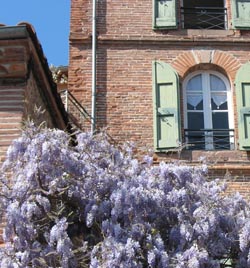 Discover Gascony
Gascony is not a territorial division of modern France; it was a historic principality in the Middle Ages, and later became part of the Province of Guyenne. Generally speaking, it includes land southwest of the river Garonne, excluding the Béarn and the Basque country. Most of historic Gascony now lies in the Midi-Pyrenees region (this page) , a part of it in Aquitaine.

More information

► Brief guide to Gascony
► Toulouse city guide
► The Midi-Pyrenees region
Practical information
Driving times for the Midi-Pyrenees area and southwest France :
10 to 14 hours from Calais or Lille under normal driving conditions.
Best access routes from the UK, Belgium or Holland:
Western sector - motorways via Orleans
Eastern sector: motorways via Dijon and Lyons, or Orleans and Clermont-Ferrand.
Airports in and near Gascony:
Toulouse - Blagnac, Lourdes, Pau, Biarritz ,
Peripheral airports
: Rodez, Montpellier, Carcassonne, Perpignan, Bordeaux.
Gites in other regions - clickable map