Cliquez pour
gites en Midi-toulousain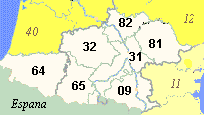 Western and central Pyrenees,
Gascony & Tarn
Including the following French departments :
09 Ariège, 31 Haute Garonne, 32 Gers, 64 Pyrénées Atlantiques, 65 Hautes Pyrénées, 81 Tarn, 82 Tarn et Garonne.
Includes historic regions of
Béarn, Basque country, Armagnac & Gascony.

Flags indicate the languages in which each property is presented:

Site en français

Site in English

Website auf deutsch

Website in nederlands

Enlaces en español.
The most recent additions
New!

Accommodation near Albi 81 Cottage, 2 studio apartments and B&B - with pool - set in rolling vineyards, woods and fields above the ancient market town of Gaillac on the Tarn river

New!

Gite near Foix 09 Gite Le Pastourel is a large, 4 bedroom, stone farm house in an acre and a half of gardens on the edge of a small hamlet, with views to the Pyrenees. Flexible booking in off-peak periods.

New!

Between Gers & Pyrenees 65 2 gîtes for 4 and 6 persons offering a wonderful environment for country holidays among family of friends. Near Lourdes and Marciac. An hour from the ski slopes and the High Pyrenees
Gites, listed by department
- Departments are listed in random order
Gites in the Tarn - 81
Gites in Pyrénées Atlantiques and Hautes Pyrénées - 64 and 65
Western Pyrenees - Aas 64 Traditional stone house for 4 -6 in tranquil mountain setting close to the Pyrenees National park south of Pau. Fantastic mountain views - skiing, hiking, cycling.
Between Gers & Pyrenees 65 2 gîtes for 4 and 6 persons offering a wonderful environment for country holidays among family of friends. Near Lourdes and Marciac. An hour from the ski slopes and the High Pyrenees
Gites in Ariège - 09
Gites in Tarn et Garonne - 82
Near Saint Antonin Noble Val

82

Eco Gite for 4 + B&B. One of Sawdays top 20 most chic. Clean, bright rooms,long views, beautiful rural area. 75 minutes Toulouse airport.
Hilltop gites with pool near Agen 82 Hamlet with 4 gites each with fully fitted kitchen, comfortable furnishings, secluded well-established gardens with patio furniture. Different capacities: 2 bedrooms, 3 bedrooms , 4 bedrooms or 6 bedrooms.
Gites in the Gers 32
Gites in the Gers

32

Gites/B&B with heated pool near Auch 5 self-catering cottages in 17th century Manoir on idyllic 35-acre Domaine – spa, peaceful countryside but close to Auch
Gites in rural Gascony 32 Four gites sleeping from 2 to 13 visitors. Situated in a converted barn, the gites have been completely refurbished to the highest standard. Our 5 acres are surrounded by fields of vines and colourful sun flowers.
Gites in Haute Garonne - 31
Gite with pool near Tarbes 31 - Pyrenean idyll, stunning mountain views. Beautifully restored 2 bedroom cottage/Gite in a small village in the Haute Garonne department
Gites in the Lot - 46 - and Aveyron - 12
Copyright Gitelink.com 2003-2017
Photo top of page. Licenced creative commons from an original photo by ww2censor.
► Return to
Gites in France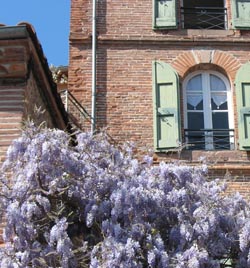 Traditional gites in Gascony and Midi-Pyrenees
Best rates, no extra fees !

With Gitelink, you deal
directly with owners
, or else
only
with booking sites that do not charge the customer extra booking fees, administrative charges or credit card fees.

Gitelink - the independent gites directory online since 1999 - lets you
book directly with owners
, avoiding the commissions and fees charged by many online holiday rental agencies. Click the links for full details and photos or each gite listed listed

Ferienwohnungen in Sudwestfrankreich - von den Pyreneen zum Tarn

Alquiler de casas rurales en los Pireneos franceses y el entorno de Tolosa
Discover the Gascony
Gascony is not a territorial division of modern France; it was a historic principality in the Middle Ages, and later became part of the Province of Guyenne. Generally speaking, it includes land southwest of the river Garonne, excluding the Béarn and the Basque country. Most of historic Gascony now lies in the Midi-Pyrenees region (this page) , a part of it in Aquitaine.

More information

► Brief guide to Gascony
► Toulouse city guide
► The Midi-Pyrenees region
Practical information
Driving times for the Midi-Pyrenees area and southwest France :
10 to 14 hours from Calais or Lille under normal driving conditions.
Best access routes from the UK, Belgium or Holland:
Western sector - motorways via Orleans
Eastern sector: motorways via Dijon and Lyons, or Orleans and Clermont-Ferrand.
Airports in and near Gascony:
Toulouse - Blagnac, Lourdes, Pau, Biarritz ,
Peripheral airports
: Rodez, Montpellier, Carcassonne Perpignan, Bordeaux.
Gites in other areas of France:

Select an area on the map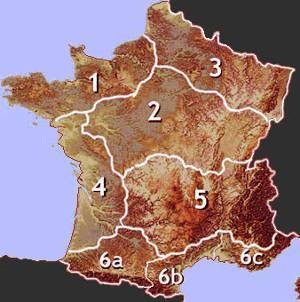 or choose a region
Owners - Add your gite to Gitelink France:
Gitelink is a directory specialising in in good quality good-value French gites and holiday accommodation. Listing only properties with character, notably gites in rural areas, Gitelink - established in 1999 - is an effective way for owners to advertise their properties for direct rent, without the services or cost of any intermediary.
More details.
Copyright Gitelink.com 2017