On this page
The Auvergne has plenty to offer in terms of tourist attractions; and while its countryside and scenery are perhaps the greatest attraction for most visitors, tourists and visitors will find plenty of specific sites and sights to ensure a richly varied and interesting holiday in the Auvergne for all discerning travellers. Here are some of the Auvergne's best ....
Monuments and Culture:

The old city, St Michel's chapel and cathedral of Le Puy en Velay
(UNESCO world heritage site)

The Romanesque churches of Auvergne.
The Auvergne is rich in remarkable mediaeval churches, the most famous of which are:
Notre Dame du Port (Clermont Ferrand) (Puy-de-Dôme)
Eglise Saint Austremoine at Issoire (Puy-de-Dôme)
Notre Dame d'Orcival (Puy-de-Dôme)
Eglise de Saint Nectaire (Puy-de-Dôme)
Basilique Saint Julien, Brioude (Haute-Loire)
Abbey and cloisters at Lavaudieu (Haute-Loire)
Cathedrale Notre Dame and Chapelle Saint Michel de l'Aiguilhe , le Puy en Velay (Haute-Loire)
Mauriac (Cantal)

Historic churches and chapels with frescoes and murals:
The Abbey at La Chaise Dieu (Haute-Loire), with world famous Dance of Death fresco.
The small churches and chapels of the Haut Allier (Haute-Loire), Blassac, Saint Cirgues, Peyrusse, etc , many decorated with murals and frescoes.

Beautiful villages:
Auvergne includes a number of officially listed "plus beaux villages de France"( **), and lots more very pretty villages, often smaller ones, that have no official classification but may be just as attractive... and less touristy.
Allier: Charroux**, Verneuil en Boubonnais.
Puy de Dome: Montpeyroux**, Usson** , Saint-Saturnin
Haute Loire: Arlempdes**, Blesle**, Lavaudieu**, Pradelles**, Chilhac, Lavoûte-Chilhac, Auzon, Saint Arcons d'Allier, Monastier-sur-Gazeille
Cantal: Salers**, Tournemire**, Laroquebrou, Montsalvy

Dungeons and chateaux.
There are many famous castles to visit in Auvergne; the following are among the more interesting:
Allier: Bourbon l'Archambault, Busset, Lapalisse
Puy de Dome: Pontgibaud, La Batisse, Saint Saturnin, Tournoël, Effiat,
Haute Loire: Valprivas, Domeyrat (near Brioude), Chaviniac Lafayette, Polignac., Saint Vidal.
Cantal: Val (on the Lac de Bort), Pesteils (near Vic sur Cère)

Clermont Ferrand
The old city, the Cathedral, the church of Notre Dame du Port, the Roger Quillot Art Gallery, trip to the top of the Puy de Dome mountain.

Other historic monuments
Jonas, near Saint Nectaire (Puy-de-Dôme). Remains of the mediaeval trogloditic cave dwellings, guided visits.

Events, festivals
and concerts
Zenith de l'Auvergne - Clermont Ferrand - one of France's large auditoriums.
World "Cultures and Traditions" festival, Gannat - Puy de Dome. July
Festival de la Chaise Dieu, Haute Loire, one of France's most prestigeous classical music festivals. Late August
"Musique en la Vallée" a season of concerts in small churches in the area of Brioude, Haute Loire. July - August.
Biennale de l'Aquarelle - Brioude biennial watercolour festival, France's largest watercolour event. Haute Loire. Every odd-numbered year, in July.
International street theatre festival, Aurillac, Cantal . August.
"Bird King" Renaissance festival in the streets of Le Puy en Velay, mid September.
Saugues, Haute Loire. Gevaudun Celtic music festival. three days in mid August
Craponne-sur-Arzon, Haute Loire. Country music festival - 3 days at the end of July
---
Outdoor activities:
Kayaking

on the upper reaches of the Allier and the Loire.

Kayak hire

in summer at several locations including Langeac, Lavoûte-Chilhac and Brioude on the Allier, and Brives-Charensac, Vorey-sur-Loire, and Bas en Basset on the Loire

Hot air ballooning

over the volcanoes

Hiking

The Massif-Central lies at the hub of France's network of long-distance hiking trails. Numerous hiking trails cross the region, including the start of the great historic Pilgrimage route to Santiago de Compostella, that starts in Le Puy, and the new GR 700 Regordane Way, a historic mediaeval pilgrimage route to from Le Puy to St. Gilles du Gard. The GR 4 hiking trail, crossing France from the Atlantic to the Mediteranean, traverses the Auvergne and neighbouring Lozere from Bort les Orgues (Puy-de-Dôme) to Langogne(Haute-Loire); and the GR3, the Loire Valley route, and oldest long-distance trail in France, runs through the region from north to south.

Cycle tourism.

A lightly-populated region stretching from the Loire valley to the highest peaks of the Massif Central, Auvergne has thousands of kilometres of byroads with very little traffic, ideal for cyclists. The area is crossed by the V70 (Loire to Mediterranean) and V74 (Massif Central) national cycleways, and there are also hundreds of kilometres of marked local cycleways - information available from local tourist offices

Mountain bike trails

. The Haute Loire and Puy de Dôme cater particularly well for mountain bike enthusiasts. With over 3300 km of marked mountain bike trails, mostly off-road, the Haute Loire is one of the best equipped departments in France, with a diverse range of trails from the very easy to the very difficult. For more info click

43

on the French Cycling Federation's Mountain bike map

Via ferrata

at Orbeil, near Issoire (Puy-de-Dôme) or at Le Pertuis (Haute-Loire)

Sailing

on several of the region's lakes, and notably at the lake of Bort les Orgues (Puy-de-Dôme) or on Lake Lavalette near Yssingeaux. (Haute-Loire)

Velorail

du Cézallier, from Allanches and Landeyrat in the Cantal (15). Pedal carts on an abandoned railway line. 6 options, with rides from 6 km to 23 km. Website

Velorail

du Velay, at Dunières (Haute-Loire). More pedal carts on another old railway line. Up to 15 km, with option of the up journey by special train, for a largely downhill pedal cart ride.. Website

Skiing

. The region's main downhill skiing areas are at the Puy de Sancy (Puy-de-Dôme), with the resort of Super Besse, and at the Plomb du Cantal, with the resort of Super Lioran.
---
Parks, sights and attractions:
Vulcania theme park, near Clermont Ferrand; Volcano theme park, with 3-D cinemas, IMAX, and a discovery of the world of volcanoes, earthquakes and earth forces. (Puy-de-Dôme)
The volcanoes themselves - the Massf du Sancy (Puy-de-Dôme), the Monts du Cantal (15) and the Volcans du Velay (Haute-Loire), plus volcanic outcrops and geological sites throughout the area between these three most proçminent features.
Le Pal amusement park. (03)
The monthly Biron cattle fair, in the wilds of the Cézallier (Puy-de-Dôme). Starts very early in the morning !
Historic working paper mill, the Moulin Richard de Bas, at Ambert (Puy-de-Dôme) making paper since the 14th century.
Allier gorges scenic train trip (Haute-Loire), departs from Langeac.(train station, SNCF).
The Haut Velay steam railway - the highest in France. Part of a former metre-gauge network. Raucoules - Chambon sur Lignon - Saint Agrève. Steam trains on Sundays late April to October, and more frequently in July and August.
Ally : wind farm, windmills and historic Gallo-Roman mine visit. (near Lavoute Chilhac Haute-Loire)
Petrifying fountains of Saint Nectaire Discover an age-old handicraft in an unusual underground environment
Living history presentations: Chateaux de La Batisse (Puy-de-Dôme) , de Domeyrat (Haute-Loire), de Murol (Puy-de-Dôme).

Museum of the Resistance, Mont Mouchet, near Saint Flour (15)
The Pont de Garabit, designed by Gustave Eiffel (visitor centre on A75 motorway south of St Flour)
Salers, traditional old town of the Auvergne uplands (15)
---
More about Auvergne..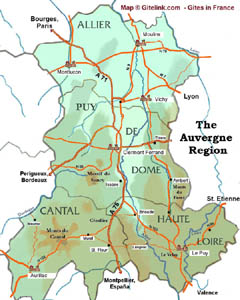 Click map to Enlarge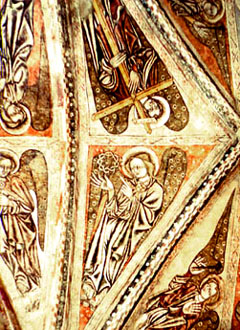 Mediaeval murals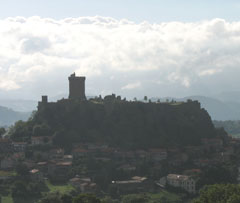 Chateau de Polignac


Scenic railway - Gorges de l'Allier
Eleventh century Chapelle St. Michel - Aiguilhe, Le Puy

Professionels du tourisme et de la culture en Auvergne
Pour proposer votre site ou événement au guide
Auvergne Web Guide
, auvergne @ gitelink.com