en français:
Attractions touristique en Auvergne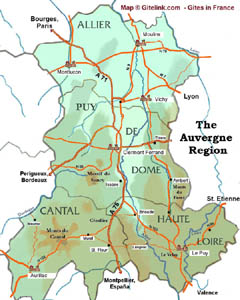 Click map to Enlarge



Useful links
Auvergne tourist office
Hotels at and near Clermont-Ferrand
Vulcania
Small campsites in Auvergne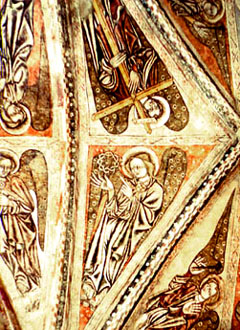 Mediaeval murals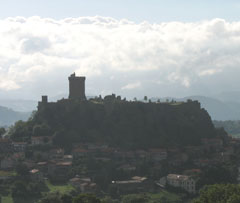 Chateau de Polignac


Scenic railway - Gorges de l'Allier



Eleventh century Chapelle St. Michel - Aiguilhe, Le Puy







Professionels du tourisme et de la culture en Auvergne


Pour proposer votre site ou événement au guide



Auvergne Web Guide

, cliquez ici


Things to see and do, places to stay in the Auvergne

The Auvergne has plenty to offer in terms of tourist attractions; and while its countryside and scenery are perhaps the greatest attraction for most visitors, tourists and visitors will find plenty of specific sites and sights to ensure a richly varied and interesting holiday in the Auvergne for all discerning travellers. Here are some of the Auvergne's best ....
Monuments and Culture:

The old city, St Michel's chapel and cathedral of Le Puy en Velay

(UNESCO world heritage site)



The Romanesque churches of Auvergne.


The Auvergne is rich in remarkable mediaeval churches, the most famous of which are:

Notre Dame du Port (Clermont Ferrand) (63)
Eglise Saint Austremoine at Issoire (63)
Notre Dame d'Orcival (63)
Eglise de Saint Nectaire (63)
Basilique Saint Julien, Brioude (43)
Abbey and cloisters at Lavaudieu (43)
Cathedrale Notre Dame, le Puy en Velay (43)
Chapelle Saint Michel de l'Aiguilhe , Le Puy en Velay
Mauriac (Cantal, 15)

Historic churches and chapels with frescoes and murals:
The Abbey at La Chaise Dieu (43), with world famous Dance of Death fresco.
The small churches and chapels of the Haut Allier (Blassac, Saint Cirgues, Peyrusse, etc) , many decorated with murals and frescoes.

Dungeons and chateaux.


There are many famous castles to visit in Auvergne; the following are among the more interesting:

Allier: Bourbon l'Archambault, Busset, Lapalisse
Puy de Dome: Pontgibaud, La Batisse, Saint Saturnin, Tournoël, Effiat,
Haute Loire: Valprivas, Domeyrat (near Brioude), Chaviniac Lafayette, Polignac., Saint Vidal.
Cantal: Val (on the Lac de Bort), Pesteils (near Vic sur Cère)

Clermont Ferrand


The old city, the Cathedral, the church of Notre Dame du Port, the Roger Quillot Art Gallery, trip to the top of the Puy de Dome mountain.



Other historic monuments
Jonas, near Saint Nectaire. Remains of the mediaeval trogloditic cave dwellings, guided visits.

Concerts, events and festivals
Zenith de l'Auvergne - Clermont Ferrand - one of France's large auditoriums.
World "Cultures and Traditions" festival, Gannat - Puy de Dome. July
Festival de la Chaise Dieu, Haute Loire, one of France's most prestigeous classical music festivals. August
"Musique en la Vallée" a season of concerts in small churches in the Haut Allier
International street theatre festival, Aurillac, Cantal . August.
"Bird King" Renaissance festival in the streets of Le Puy en Velay, mid September.
---
Outdoor activities:
Kayaking on the Haut Allier and the Loire.
Hot air ballooning over the volcanoes
Hiking The Massif-Central lies at the hub of France's network of long-distance hiking trails. Numerous hiking trails cross the region, including the start of the great historic Pilgrimage route to Santiago de Compostella, that starts in Le Puy, and the new GR 700 Regordane Way, a historic mediaeval pilgrimage route to from Le Puy to St. Gilles du Gard The GR 4 hiking train, crossing France from the Atlantic to the Mediteranean, traverses the Auvergne and neighbouring Lozere from Bort les Orgues (63) to Langogne(43); and the GR3, the Loire Valley route, and oldest long-distance trail in France, runs through the region from north to south.
Mountain bike trails
Via ferrata at Orbeil, near Issoire (63) or at Le Pertuis (43)
Sailing on several of the region's lakes, and notably at the lake of Bort les Orgues (63) or on Lake Lavalette near Yssingeaux. (43)
Velorail du Cézallier, near Allanches (15). Pedal carts on an abandoned railway line.
Velorail du Velay, at Dunières (43). More pedal carts on another old railway line
Skiing. The region's main downhill skiing areas are at the Puy de Sancy (63), with the resort of Super Besse, and at the Plomb du Cantal, with the resort of Super Lioran.
---
Parks, sights and attractions:
Vulcania theme park, near Clermont Ferrand; Volcano theme park, with 3-D cinemas, IMAX, and a discovery of the world of volcanoes, earthquakes and earth forces. (63)
The volcanoes themselves
Le Pal amusement park. (03)
The monthly Biron cattle fair, in the wilds of the Cézallier (63). Starts very early in the morning !
Historic working paper mill, the Moulin Richard de Bas, at Ambert (63) making paper since the 14th century.
Allier gorges scenic train trip (43), departs from Langeac.(train station, SNCF).
Ally wind farm, windmills and mine visit. (near Lavoute Chilhac 43)
Petrifying fountains of Saint Nectaire Discover an age-old handicraft in an unusual underground environment
Living history presentations: Chateaux de La Batisse (63) , de Domeyrat (43), de Murol (63).

Museum of the Resistance, Mont Mouchet, near Saint Flour (15)
The Pont de Garabit, designed by Gustave Eiffel (visitor centre on A75 motorway south of St Flour)
Salers, traditional old town of the Auvergne uplands (15)
---
Accommodation: a selection of hotels, gites and B&B in Auvergne :
Hotels
15 - Cantal - Vézac (Aurillac)
Hôtel Château de Salles
***

Just 8 km from the centre of Aurillac, this château hôtel is in its own 20-acre grounds, and offers spa and gym, and a view over the Monts du Cantal

43 Haute Loire - Salzuit - RN 102
Hôtel St. Roch - Château de Salzuit
***

Very attractive hotel in a recently renovated chateau, near N102 highway. Listed with "Relais du Silence".



63 - Puy de Dome - Royat
Hotel Princesse Flore

****

Quietly located in a residential suburb above Clermont Ferrand, this four star hotel is within easy reach of the city center




63 - Puy de Dôme - La Bourboule -


Hôtel du Parc des Fées
***

Classic three star hotel located in the heart of this holiday spa and skiing resort in the Massif du Sancy, the mountains to the south of Clermont Ferrand

63 - Puy de Dôme - Saint Nectaire


Hotel Régina

**

Two star hotel, with pool, located in Saint Nectaire, in the hills to the south of Clermont-Ferrand



Gites