What is a gite? Is it different from a cottage or a villa ?
How does one define a "gite"?
What is a "gite" ? Is it different from a
cottage
or a
villa
or a
holiday rental
?
The short answer is "no" - at least not in the way that it is commonly used (or abused) on the Internet. But even so the term does tend to be used more specifically to define a particular type of holiday rental accommodation, to the exclusion of other types.
For some holiday properties, the expressions
gite, cottage, holiday rental, holiday cottage, holiday let,
and
vacation rental
, and even
chalet
, may all be quite appropriate, and frequently used. But within this disconcerting array of alternatives, each term has certain nuances of meaning - or should have. The problem is that owners and agencies often use words with a nonchalent disregard for their real meaning, and sometimes choose a deliberately more flattering term to describe a rental property that is really not much to write home about.
In correct usage, the various terms that describe holiday rental properties can be defined as follows:
Gite:
Definition: a gite is a most commonly a rural holiday rental, frequently in a renovated traditional country cottage or barn conversion - in a village or in the countryside. The word "gite" more generally defines the function of the property, and in reality there are plenty of "gites" in modern buildings. "Gite" is a French word that has gained acceptance in English, notably but not only to describe properties in rural France. Originally, "gites" offered fairly rudimentary accommodation, and this is still the case today for some properties, notably those that are listed as "one ear of wheat" (un épi) with the Gites de France organisation. However, in recent years, the concept of the gîte has gone firmly up-market, and the majority of gites, particularly those that advertise internationally, offer good quality accommodation or even luxury accomodation. Using the Gitelink directory, visitors can get a very clear view of the qualities of each property, since each gite is presented on its own individual website, with plenty of photos.
In France (though not in the Gitelink directory), the word also defines some other specific types of accommodation; a "
gîte d'étape
" is rather like an old-fashioned youth hostel, a place offering fairly basic overnight accommodation on a long-distance or popular hiking or cycling route. A "
gîte équestre
" is usually the same kind of accommodation but for riders trekking on horseback.
In Spain, "gites" are often referred to by the term "
finca
" or "
cortijo
", which imply detached rural houses, or simply called "
casas rurales
" (country houses)..
Villa:
the term
villa
is more used to describe modern detached properties, or classic residences, and defines the nature of a building rather than its function. A detached house in the leafy suburbs of Nice, or a modern house in a small village, might describe itself as a "villa", though also be hired out as a "gite".
Holiday cottage:
the term evokes the image of a small traditional rural homestead, the kind of building that was once the home of a farm worker and his family or a smallholder. It is commonly used in this definition today, though on account of its homely connotations and the values the word implies, the term "cottage" is also used more generally to describe any form of self-contained rural accommodation, and is perhaps the best English translation of the word "gîte".
Chalet:
term traditionally used to describe wooden dwellings in the mountains, or traditional mountain buildings built of stone and wood. Today the word is also used to describe modern wooden houses in the country, or even small prefabricated wooden holiday homes. The Gitelink directory includes traditional chalets, but not the small prefabricated type.
Holiday rental, holiday let:
(in French, "
location de vacances
") These expressions cover a much wider spectrum of properties, and include modern seaside apartments, bungalows, and almost any type of gite, flat or house that is rented out furnished for tourists or short-stay visitors.
Holiday apartment, vacation rental, holiday lodging :
these terms are essentially used in American English, but for this reason have been picked up by a lot of international websites or holiday websites in English that are actually run and/or owned by people speaking other languages. For this reason, their usage on the Internet is often rather arbitrary and general. There are plenty of instances of holiday websites describing detached villas as "holiday apartments" and vice-versa.
►Find gites or B&Bs now
Gites in France
B&Bs in France
Gites in Spain

The Gitelink selection
Gites throughout France:
Select an area on the map
Gites in France - clickable map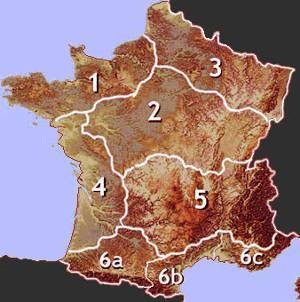 How to book a gite
There are any number of different ways to book a gite: but take care ! If you use a big online rentals site,
warning
: you may well end up paying far more for your gite or cottage holiday than you need to. And if you don't pay more than you need to (and even if you do) the chances are that the booking site is taking a good slice of the booking fee. Many gite owners, like the owners of many small hotels, b&bs and campsites, struggle hard to make ends meet, and the big online rentals sites make the struggle even harder.
Depending on the rental agency used, visitors can be charged a fee of
up to 16%
on top of the rental charge – not to mention the commissions charged to property owners.
For example, you discover a delightful holiday cottage, with room for 4 people, for which the weekly rental charge announced on the rental site is a reasonable 690 € for a week. So you go through the booking process, and by the time you reach the checkout, the cost has jumped up to 800 €.
What a waste, when you could have booked the cottage at the stated rental price, by contacting the owners directly.
Book directly with owners !
Best rates, no risk, no hassle!
Start your search by clicking on the map above
Most properties listed on Gitelink can be
booked directly with owners
, avoiding the commissions and fees charged by many online holiday rental agencies.
In addition, direct booking with the owners, or booking through a portal that does not require you to pay
them
first is by far the best option in the event that you should need to modify or cancel your booking.
The Internet is full of horror tales from people who have been unable to cancel a booking through a reservation site, or who have done so and been charged nonetheless, or have been given a very meagre reimbursement.
Direct booking avoids this
: you are in direct contact with the property owner, and most owners take great pains to ensure good customer relations