Provençal food and the wines of Provence
The main herbs used in Provençal cooking are thyme, basil, rosemary, oregano and fennel.
However, if there is one item that characterises all types of Mediterranean food, it is the use of olive oil for cooking. Provençal cooking is no exception, and many of the finest Provençal dishes are based on Mediterranean vegetables and olive oil.
Popular Provençal dishes:
Among popular Provençal dishes, one can note:
Soupe au pistou

- a thick vegetable soup flavoured with basil and herbs

Bouillabaisse

marseillaise - the great Mediterranean fish soup.

Gratin d'aubergine

(called by several different names including

Tian d'aubergines

): sliced aubergines baked in olive oil, with chopped onion and tomato, seasoned with herbs, and covered with grated cheese .

Daube provençal

- a stew made from beef marinated in red wine, with herbs pepper, garlic and olive oil.

Ratatouille

- basically any mixture of vegetables chopped and stewed together; the traditional Provençal ratatouille is a mixture of tomatoes, peppers (bell peppers), onions, courgettes (zucchini) and aubergines (egg-plant).

Lapin provençal

- provençal rabbit stew: rabbit marinated in white wine, then stewed with shalotts, rosemary, thyme, black olives, tomatoes, garlic and lardons (cubes of bacon)

Pissaladière

: a speciality of Nice : an onion and anchovy tart, or a kind of pizza without tomatoes.
Provence olives.
Olives have been grown in Provence for thousands of years. The most famous Provence olives are the fleshy black "Olives de Nyons", the green Picholine olive, with a mild and nutty flavour, and the small "niçoise" olive that comes in a variety of colours.
Provence wines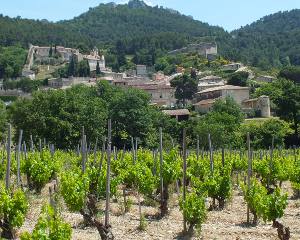 Cotes du Rhône vineyard at Gigondas
Provence is the oldest wine producing area in France. The cultivation of the vine spread round the Mediterranean before the age of the Greeks and the Romans, and the first vines were grown in the area around Marseilles in the 6th century BC, if not earlier.
Today Provence is famous for its red and rosé wines. Perhaps the most reputed of Provence's "appellation protégée" (previously
appellation contrôlée
) wines is
Chateauneuf du Pape
, from just outside Avignon. A lot of the vineyards in the Rhone valley part of Provence are in the "
Côtes du Rhône
" designated area – which actually extends well beyond the limits of Provence. The region is also famous for its dry "
Côtes de Provence
" rosé wines, that are often served as an accompaniment to local dishes. Another well-known Provence wine is
Bandol
, produced in one of the oldest wine-growing areas of France; it is a distinctive dark red wine, which is very southern Mediterranean in flavour.
For more on French wines, see the
French wine guide
on About-France.com
Provence sweets
or candy
Les Calissons d'Aix: delicious slices of almond paste topped with a sugary covering.
Les fruits confits: candied fruit, produced by traditional methods.
Photo top of page: in Provençal towns restaurants spill out into the narrow streets, shaded from the midday sun.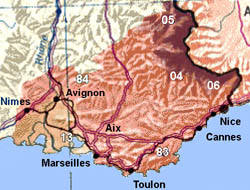 Provence region, covering the French Riviera, the Provence Alps, historic Provence and the area historically linked to Provence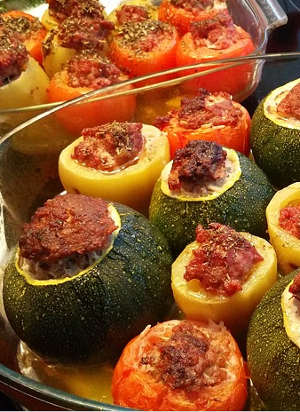 Stuffed courgettes (zucchini), tomatoes and peppers à la provençale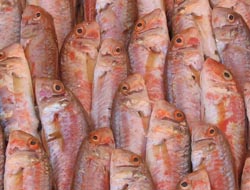 Red mullet on a Provençal market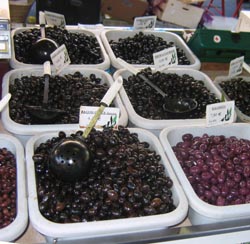 Olives on sale in the market at Aix
Copyright :
Website and text © Gitelink.com renewed 2021
.