Traditional gites in Vendée, Charentes and Aquitaine

on and near the Atlantic coast of central western France.
Driving times for this area:
6 to 12 hours from Calais or Lille under normal driving conditions.
Best access routes from UK, Belgium or Holland:
Western channel crossings to Roscoff, Cherbourg ofr Caen. From Calais, motorway via Rouen and Orleans.
Regional airports:
Nantes, La Rochelle (Charente Maritime) , Bergerac (Dordogne) , Bordeaux (Gironde), Limoges.
For airlines serving this region, check out full details here:
Flights to southwest France
Regional information:
The Loire Atlantique and Vendée are part of the
Pays de la Loire
region.
Deux Sèvres and the Charentes are in the
Poitou-Charentes
region.
The remaining departments are part of the
Aquitaine
region.
Main cities in this area :
Nantes, St. Nazaire, Les Sables d'Olonne, Poitiers, Niort, Périgueux, Angoulême, La Rochelle, Bordeaux.
Other attractions
.
The Futuroscope (near Poitiers) and
Puy-du-Fou
(Vendée) theme parks
Official regional tourist site
Visit Poitou Charentes
Key to gites listing: Gites with....

Websites in English

Sites en français
Websites auf Deutsch

Websites in Nederlands
► Click on any link in the list for a
detailed description of the property
, with photos and prices

The Atlantic coastal areas of France are popular holiday destinations
. The Charentes are reputed to be one of the sunnier areas of France, and the coast offers many long expanses of sandy beaches. Parts of the coast also support a fishing and shellfish industry, with small fishing ports and oyster beds. Behind the coast, the region is mostly flat, with mixed agriculture in the northern parts, many vineyards in the middle, and pine-forests in the south, below the Gironde estuary.
While the Charentes are largely flat and low-lying, the inland part of Aquitaine, the Dordogne and Lot & Garonne departments, includes areas of hills and valleys, including some impressive limestone gorges and many very attractive villages. Apart from the cities of Saint Nazaire and Nantes, on the Loire, Bordeaux on the Gironde, and the port of La Rochelle in the Charentes, central western and southwestern France is largely rural. Vendée and Deux Sèvres are famous for their bucolic countryside (and the Puy du Fou historic theme park in Vendée), the Charentes for their dairy products, for oysters and for cognac, the Bordeaux area is of course famous as one of the world's greatest vineyards, and Lot & Garonne is reputed for its fruit and vegetables, notably plums and tomatoes. In the south, the department of les Landes is France's largest forested area, and boasts over 100 kilometres of fine sandy beaches
Some of the holiday cottages in this directory are listed with Gites de France, but many are not. The absence of a Gites de France label has no bearing at all on the quality of the accommodation. Click here for more information on the
Gites de France rating system.

Gites in other areas of France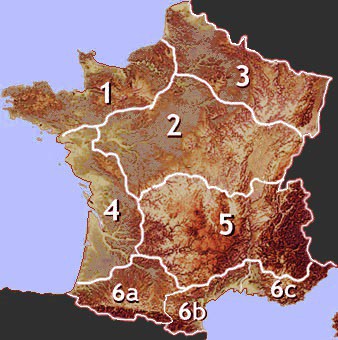 Click here for Regional guide

Information about France
Adding your gite to Gitelink :


Gitelink offers owners the possibility of listing their gite in one of the most long-established gites directories on the Internet, at very competitive prices. All properties are advertised in both the English and French versions of the directory. See owners page for further details

Ajouter votre site sur Gitelink :


Pour inscrire un gite, consultez d'abord nos informations propriétaires
En français...

gîtes près de la côte atlantique




Area 4a: Atlantic coastal areas :


On this page:

Loire Atlantique to Aquitaine - including Vendée, Deux-Sèvres, and the Charentes. . Includes the following French départements: (in North-South order):





44 Loire Atlantique, 85 Vendée 79 Deux Sèvres, 17 Charente Maritime, 16 Charente, 33 Gironde, 40 Landes





► ► ►

Further inland ? Click for gites in....
The Loire Valley or Dordogne & Lot et Garonne

The two latest additions in this area -

les deux derniers inscrits

-
New!

B&B Deux-Sèvres

79

Near Bressuire, quaint, 18th century cottage set on seven hectares of exclusive woodland, picturesque gardens and orchards beside the Argenton River.

New!

Gites at Chatenet

17

In the south of Charente Maritime, 3 cottages equipped with everything you need for a comfortable self catering holiday. Heated swimming pool .



Gites by department /

par département




(Departments listed in random order -


40 Gites in Landes (The coastal department southwest of Bordeaux)
Rural Gascony 40 + Large family gite in peaceful rural location. Sleeps 8, private pool and gardens. 4 bedrooms, 2 bathrooms, dining/breakfast room, large sitting room. Covered terrace.
Cottage in Armagnac

40

Lakefront cottage in the heart of Gascony, southwest France. 3 bedrooms for up to 6 guests. Surrounded by nature and tranquility.



79 Gites in Deux Sèvres

(Coastal department in the Poitou region)

Southern Deux-Sèvres 79 Fully equipped two bedroom gite near Ruffec, in the heart of the Poitou Charentes. Garden, shared pool & Plunge pool garden furniture etc.
Affordable luxury gites 79 - Les Cygnes, 3 beautiful Gites with lovely large gardens and pool sleeping 6-8-10 and for groups up to 24, Close to many attractions. New for 2012 - heated pool.
Mill gite near Parthenay 79 Gite offering flexible booking periods. Stunning 700-year-old converted mill, sleeping 8 and with a beautiful river running at the bottom of the garden
85 Gites in Vendée

(Coastal department south of the Loire)


17 Gites in Charente Maritime

(Coastal department north of the Gironde)

Charente Maritime, near La Rochelle 17 + Gite with swimming pool in a renovated farm, in a calm location 8 mins from La Rochelle and the isles of Charente Maritime.
Seaside villa Royan: 17 + Twenty yards from Chay beach, Villa Mamette is a large traditional sea-front villa for 12 people with own gardens; 5 bedrooms.
Between Saintes and La Rochelle, 17 + Not far off A10 motorway, Près du Puits offers en suite B&B and 2 renovated Gites each for 2 people with pool, in secluded gardens.
Charente Maritime near Rochefort

17

- small gite for 4, 10 min. from Rochefort and the beaches. One bedroom and lounge with comfortable sofa-bed. Garden views, terrace, spacious garden. Next to a riding school.
Charente Maritime gites 17 Family gite complex, 4 gites from 2 to 4 bedrooms. Large heated pool, crazy golf, table tennis, archery. All gites have UK sat TV and WiFi
33 Gites in the Gironde

(the area round Bordeaux)
Gironde, near Bergerac 33 + Four star rated gite with indoor pool set amid the vineyards; ideally located between the Bordeaux wine areas and the sights & chateaux of Dordogne.
St. Emilion - Sauternes area. 33 + Fully renovated 18th century wine farm set in quiet location amidst the vineyards. Five high quality & comfortable B & B rooms, including one family suite and one room with disabled access. Swimming pool.
Near Saint Emilion 33 + Fully equipped gite for 4-6 in Bordeaux wine country at Beau Séjour, an 18c stone guest house offering peace & quiet, and a memorable, happy visit. See site for guest comments.



16 Gites in Charente

(The inland part of the Charentes, net to the Dordogne)


Tranquille Vienne 16 + Three gites, one offering 3 bedrooms and two with 2 bedrooms, 8m x 4m pool set in a quiet hamlet near Confolens and St Junien.
Manoir La Betoulle

16

+ Charentes/Limousin border. Set in 90 acres of unspoilt countryside, 2 luxurious gîtes sleeping 2 and 5 with huge secluded pool and tennis court.



More B&B accommodation

in the Gitelink B&B directory pages for this region

44 Gites in Loire Atlantique

(Either side of the Loire Estuary)

Gites near Nantes 44 + Les Quatre Cles: Sensitively renovated near Guemene Penfao, a longere cottage with 2 gites in a beautiful river valley location. Serene but not isolated.
La Cour - Southern Brittany 44 + Converted Barn (sleeps 10) and two pretty, stone cottages (sleeps 4/5) in a peaceful hamlet surrounded by beautiful Breton countryside.



Some owners may ask you to book through the "Gîtes de France" organisation .