Gites en Bretagne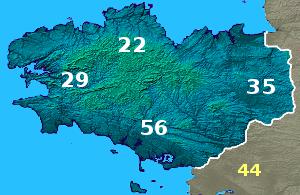 or check out gite listings by area:
🏠
Book gites directly with the owners
Gites by area :
► ► ►
choose an area below
(or click on the map above)


Côtes d'Armor
(22) is central northern Brittany. Rocky coastline with coves and fine sandy beaches; there are no large resorts, but many popular seaside towns and villages, including include Tregastel, Erquy or Perros Guirec. Inland, the area is gently hilly and rural, rising in the centre of Brittany to the moorland of the Monts d'Armoric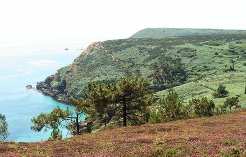 Finistère
(29) is Brittany's granite western tip. The coast is rugged, with many inlets, and resorts, and plenty of opportunity for hiking and coastal walks. This is the area where the Breton language and Breton culture survive most strongly. Brest is a naval port on a large inlet, which is also popular for sailing.
Morbihan
(56) is the gentle and sunny south side of Brittany. The area offers plenty of long south-facing sandy beaches, as well as the prehistoric megaliths at Carnac, the attractive towns of Quiberon and Vannes, and opportunities for boating on canals and rivers, and plenty of opportunity for sailing.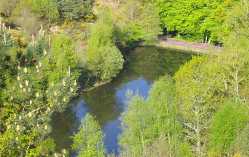 Ille et Vilaine
(35) is an area famous for its historic towns, including St Malo, Dinan and Fougères; and le Mont Saint Michel is on the borders of Ille et Vilaine and Normandy. Apart from the area round Rennes, the capital of Brittany, this is a very rural part of France, with attractive countryside and woodland.


Loire Atlantique
(44) this department at the mouth of the Loire was historically part of Brittany; indeed, Nantes, its capital, was once the capital of Brittany. Today it belongs to the "Pays de la Loire" region, a modern construct with no historical basis.
.
Owners:

add your site to Gitelink France:
Click here to
propose
your self-catering gite, villa or b&b to Gitelink. Gitelink is a targeted directory with a well established presence on the Internet. All gites are listed in both the English and French language versions of the directory. Click for
further details


Propriétaires:
Ajouter votre site sur Gitelink France:
Pour inscrire votre gite ou villa, consultez nos informations
propriétaires
..
This directory lists only selected self-catering holiday cottages, villas and B&Bs that come up to the Gitelink quality standards. Each site is the individual responsibility of the owner of the property, and contains a detailed and illustrated presentation of the gite and - in many cases - of the area in which it is situated.
Creative commons photo credits: - Cotes d'Armor - by Patrick Giraud, Ille et Vilaine by Raphodon
► Return to
Gites in France
Book directly with owners ! Best rates, and no hidden charges.
Most properties listed on Gitelink can be
booked directly with owners
, others can or must be booked through booking sites that do not charge the customer extra fees, administrative charges or credit card fees.
Either way, avoid the commissions and fees charged by many online holiday rental agencies, that can add up to 16% to the quoted rental charge – not to mention the commissions charged to property owners.

The Gitelink selection
Brittany - a short guide
► Brittany
, the northwest tip of France, is a very popular holiday destination; it has long been popular with Parisians, being somewhat closer to Paris than the French Riviera. More recently, Brittany has attracted a growing number of visitors and residents from all over northern France, Britain and northern Europe on account of its easy access, and is now the fourth most popular tourist region in France, and the most popular in northern France. Easy to reach from the UK, and with property prices far lower than those in the south of England, Brittany has become a chosen destination for people looking for a quiet rural area to live in or retire to, a place that is easy to get to, yet seems a long way away from the pressures of urban life in southern England or the Netherlands or Paris. New arrivals from the UK are actually just following the route taken by some of their ancestors, the Britons like the legendary King Arthur, who came across from Great Britain in the post-Roman era, giving Brittany its new name - Brittany, the land of the Britons.
Today's new Bretons have helped inject new life back into what was an area in serious decline; they have bought up large numbers of rural properties, saving them from dereliction, and converting many of them into attractive holiday cottages, villas or gites.
Architecturally, cottages in Brittany have much in common with those in the southwest of England; the classic Brittany holiday rental is an old stone buildings, with a slate roof, and often with whitewashed walls.
A seafaring people, the "Bretons" have always remained in touch with their cousins north of the Channel ; and contacts between Brittany and Cornwall have remained strong over the ages.
Nowadays there are plenty of holiday rentals and gites in Britanny with UK owners who accept payment in sterling and can provide help and local information in English. But obviously, there are even more holiday cottages in Brittany with French owners and caretakers. The directory pages provide a selection of attractive properties - some with UK owners who may accept payment in sterling, and offer booking procedures in English; others with French owners, who will perhaps give you just that little more feeling that for all its historic links, Brittany really is another land...
Read
More about Brittany
towns and cities, traditions, tourist attractions, food, climate and more.
Access:
Brittany is easily accessible from the UK, Belgium and Holland, and ideal for short breaks without too much travelling.
Gites in other regions - clickable map