Gites booking information page
For best rates, least risk and greatest peace of mind, many gites can be booked directly with owners. Direct booking allows visitors to avoid the hidden costs and the risks of going through a third party site.
Gitelink
is not a booking site. For most properties listed, links take visitors directly to the owners' website, where they can then make enquiries or book, in English, directly with the property owners
For some properties, notably those where owners are not confident in English and prefer to leave international bookings to a third party, links take visitors to an online booking website, where properties can be booked directly at no extra cost.
Gitelink specialises in attractive holiday cottages in rural France, gites with character in villages or the countryside. It includes a range of accommodation varying from simple country cottages through to châteaux and manor houses. In all cases, the emphasis is on quality, good value and an attractive environment.
The direct booking process
Booking
a
gite
or self-catering holiday cottage
directly with the owner
is generally one of the
safest and surest
ways of ensuring a successful holiday - especially when you have had the opportunity to thoroughly check out the property you have chosen, as is the case with the Gitelink guide.
Private owners renting out their property directly often live in the same village, or close by, and have their own personal reputations to defend if there should be a problem. Many, if not most, take pride in ensuring that their visitors get a great welcome, for if not, it is they, they owners, who are in the direct firing line. They have no anonymous travel agency or tour operator to hide behind.
Remember, bad news travels much faster than good news, and holiday cottage owners have every interest in ensuring that no-one starts spreading bad news about their rental property.
Many of the properties in the Gitelink directory are run by British or
English-speaking owners
; flags in the directory indicate the languages in which they have put up their website.
Securing your booking
There is a standard tradition in the world of holiday cottage rentals in France. A
deposit
, usually between 20% and 40% of the rental cost, is required to secure the booking, and the
balance
is due either a month or so before arrival or sometimes on arrival. There is also a standard
damage deposit
requirement, called in French "la
caution
" - though there is no fixed rate. Between 200 and 500 Euros is normal. Usually the visitor must deposit this in the form of a cheque which will not be paid in unless required. In some cases a deposit in cash may be easier. Bookings made through one of the big rentals portals may have different arrangements.
Payment
Some gite owners accept
online payment
, and those who do, especially if they use Paypal, often ask the customer to pay the transaction charges if there are any. The owners of many of the gites in the directory will accept
cheques in sterling
on a UK bank or in Euros on a French bank. When payment is required in
Euros
, this is no big problem even if - as is probable - you do not have a French chequebook in Euros. European banks have now all adopted the
IBAN
and SEPA (Single European Payment Area) system, and every bank account in France now has its IBAN number.
Holiday cottage owners who do not accept payment in Sterling should be able to provide an IBAN number; it is then a simple matter to instruct your bank to make payment of the required sum to the IBAN account indicated. You may even be able to do this yourself online, if you have Internet banking.
Bank charges
on IBAN / SEPA transfers are low, and even - for transfers between countries in the Euro zone, which includes the Republic of Ireland - normally free.
Holiday cottages in the Gitelink directory
Gites and cottages
are not accepted into the Gitelink Directory unless they provide sufficient information and photos on their website for us, and you the potential visitor, to get a good picture of the property concerned.
We do not list properties that are overpriced, nor properties that are poorly located. Our map pages allow you to pinpoint precisely on a map where each property is located.
We specialise in traditional rural gites, which are like homes from home in French villages or the French countryside. We do not knowingly accept in the Gitelink directory accommodation that is too cramped, lacks an outdoor space, is inadequately furnished, or otherwise liable to prove less attractive than was imagined.
In twenty years of operation, Gitelink has received just one single - and unjustified - complaint regarding a property listed in the directory.


Definition:
What is a "gite" ? Click here for details on distinguishing between
gites, villas, cottages and other rentals
.
When making enquiries with any of the properties listed in the directory, please remember to say that you found them on
Gitelink France
►Find gites or B&Bs now
Gites in France
B&Bs in France
Gites in Spain
Best rates, no risk, no hassle
Book directly with holiday-cottage owners and make sure that you get the best rates, with the least hassle and the least risk.
For all travel products, hotels, accommodation, cruises, airline tickets and ferries, the big aggregators put massive amounts of money into advertising all the fabulous deals that they have on offer. Sometimes the deals really are good – specially out of season : more often they end up being a lot less fabulous than suggested.
Even if the basic price for a travel product on one of the big online travel agencies looks like an unbeatable bargain, once all the extra costs have been taken into account, the picture may well look rather different. Booking fees, cancellation insurance fees, credit-card fees, service charges and who knows what else, they all end up making a travel product seriously more expensive than the fantastic bargain price in the ad.
And that's the potential downside even when your trip goes off according to plan.
If there is a problem,
and you need to modify your ticket, change your dates, or cancel a booking and claim a refund, then if you've booked through a third-party site, that's when the frustrations anger and disappointments can really add up. Even when the refunding process does work smoothly, which it can, travellers claiming reimbursement for unused or modified holiday products are liable to find themselves seriously out of pocket... assuming that they can indeed make contact with someone in "customer service" who is willing to look into their dossier.
By booking self-catering holiday cottage accommodation, or B&Bs, directly with the owners - specially in France or in Spain - visitors can be sure of getting the best rates available, direct personal service, and none of those hidden
extra costs and risks involved in booking through a third-party site.
Gites throughout France:

Select an area on the map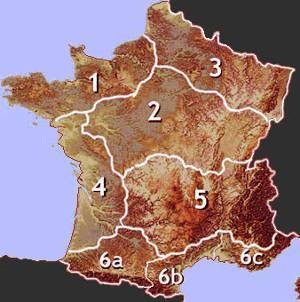 Copyright Gitelink.com 2003 - 2021