►
Holiday accommodation – Go straight to the directory: select one of these areas for self catering
Or check out properties on the interactive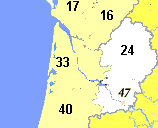 Area 4b:
Inland / intérieur -
Dordogne
& Lot et Garonne.
Includes the following French departments:
24
Dordogne
47
Lot et Garonne:
Sites en français
Sites in English
Websites auf deutsch
Websites in nederlands

Enlaces en español.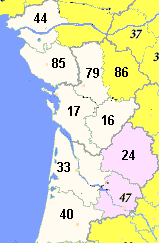 Area 4a:
Loire Atlantique to Aquitaine - including Vendée, Poitou, and the Charentes.
Includes the following French departments: (in North-South order)
44 Loire Atlantique,
85 Vendée
79 Deux Sèvres, 17 Charente Maritime,
16 Charente, 33 Gironde, 40 Landes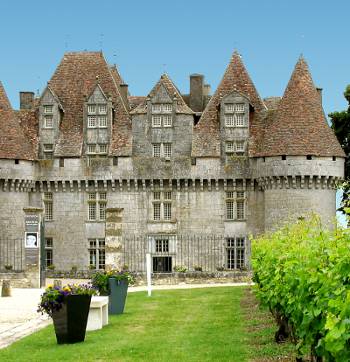 Further area information for Southwest France :
Owners: add your site :
With up to 18,000 visitors per month Gitelink offers unbeatable value for owners wanting to advertise self catering holiday cottages, villas or gites in this or other regions of France. All properties are advertised in both the English and French versions of the directory. Very competitive pricing and a high level of clickthroughs ensure that Gitelink is a valued partner for an ever growing number of owners in France.
Click for further details
Propriétaires:
Ajouter votre site sur Gitelink France:
Pour inscrire votre gite ou villa, consultez nos informations
propriétaires
..
Copyright texts and photos Gitelink © 2021
Gitelink

- a selection of self-catering holiday cottages for hire directly from the owners.


No fees !

With Gitelink

book directly with owners

, avoiding the commissions and administrative fees charged by many online holiday rental agencies and websites. Some properties may or must be booked through a booking portal that does not charge any fees to the customer.

The Gitelink selection
Self catering cottages and holiday rentals in western and southwest France, including Loire Atlantique, Vendée Poitou-Charentes, Dordogne, Gironde and Les Landes
,
Atlantic western France runs from the Loire to Poitou to the Charentes; Southwest France is essentially the region of Aquitaine, including the Dordogne.
This directory offers a choice of traditional gites and cottage rentals in the gentle countryside of western France.
Access:
Driving times for western France:
6 to 12 hours from Calais or Lille under normal driving conditions.
Best access routes from UK
, Belgium or Holland:
Western channel crossings to Roscoff, Cherbourg ofr Caen. From Calais, motorway via Rouen and Orleans.
Regional airports:
Nantes, La Rochelle, Bergerac, Bordeaux, Limoges
Airlines serving this region:
Jet2
Easyjet
Ryanair
Gites in other regions - clickable map