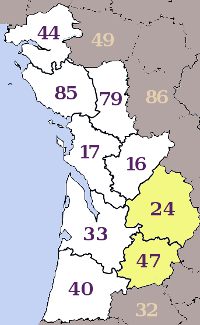 Area 4 . Central west France
Atlantic western France
On this page:
Loire Atlantique to Aquitaine
- including Vendée, Deux-Sèvres, and the Charentes, covering the following French départements: (in North-South order):
44 Loire Atlantique, 85 Vendée 79 Deux Sèvres, 17 Charente Maritime, 16 Charente, 33 Gironde, 40 Landes
► ► ►

Further inland ?
Click for gites in....

Website in English

Site en français

Website auf deutsch

Website in Nederlands
The latest additions in this area




New!

Large capacity gites 17 : For up to 26 - Chateau in Charente Maritime area sleeping up to 16, and gite for up to 10 in countryside with grounds, gardens, stunning views and large pool.

New!

Gite for two 79 - A beautiful gite of high caliber, with sun deck and private garden, located in a peaceful French hamlet in La Foret sur Sevre, Nouvelle Aquitaine. Flexible booking periods for most of the year.

New!

Gites and B&B 17 - Four small gites + B&B accommodation in a domain located at the edge of a small village in peaceful location. ideal setting to enjoy the things that make life worthwhile.
Gites by department /
par département
(Departments listed in random order )
16 Gites in Charente
(The inland part of the Charentes, next to the Dordogne)
79 Gites in Deux Sèvres
(Department in the Poitou region)
Gites near Melle - Three beautifully restored, family friendly gites. Sleep 11, 6, 4. Heated pool & playbarn. Bikes +child seats. Peaceful hamlet location near many sites of interest.
Gite in Poitou Charentes 79 - Large family gite in peaceful location. Sleeps 7, large stone-walled garden. 3 ensuite bedrooms, dining & breakfast room, lounge, games room. Terrace and court yard
Gite for two 79 - A beautiful gite of high caliber, with sun deck and private garden, located in a peaceful French hamlet in La Foret sur Sevre, Nouvelle Aquitaine. Flexible booking periods for most of the year.


85 Gites in Vendée
(Coastal department south of the Loire)
40 Gites in Landes (
The coastal department southwest of Bordeaux)
Rural Gascony 40 Large family gite in peaceful rural location. Sleeps 8, private pool and gardens. 4 bedrooms, 2 bathrooms, dining/breakfast room, large sitting room. Covered terrace.
17 Gites in Charente Maritime
(Coastal department north of the Gironde)
33 Gites in the Gironde

(the area round Bordeaux)
44 Gites in Loire Atlantique
(Once part of Brittany, either side of the Loire Estuary)
La Cour - Southern Brittany - Converted Barn (sleeps 10) and two pretty, stone cottages (sleeps 4/5) in a peaceful hamlet surrounded by beautiful Breton countryside.
More B&B accommodation
in the
Gitelink B&B west France
page
Some owners may ask you to book through the "Gîtes de France" organisation or through an online booking portal.
► Return to
Gites in France
Traditional gites in Vendée, Charentes and Aquitaine, including the departments of Deux-Sèvres, the Gironde, and les Landes.

Best rates, no extra fees !
With Gitelink, book
directly with owners
, and avoid the booking fees, administrative charges or credit card fees charged by many online holiday accommodation sites.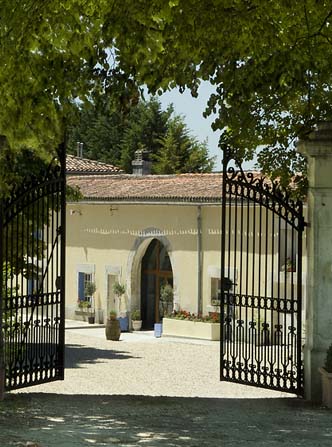 The Atlantic coastal areas of France are popular holiday destinations
. The Charentes are reputed to be one of the
sunnier areas
of France, and the coast offers many long expanses of sandy beaches. Parts of the coast also support a fishing and shellfish industry, with small fishing ports and oyster beds. Behind the coast, the region is mostly flat, with mixed agriculture in the northern parts, many vineyards in the middle, and pine-forests in the south, below the Gironde estuary.
While the Charentes are largely flat and low-lying, the inland part of Aquitaine, the Dordogne and Lot & Garonne departments, includes areas of hills and valleys, including some impressive limestone gorges and many very attractive villages. Apart from the cities of Saint Nazaire and Nantes, on the Loire, Bordeaux on the Gironde, and the port of
La Rochelle
in the Charentes, central western and southwestern France is largely rural. Vendée and Deux Sèvres are famous for their bucolic countryside (and the
Puy du Fou
historic theme park in Vendée), the Charentes for their dairy products, for oysters and for cognac, the Bordeaux area is of course famous as one of the world's greatest vineyards, and Lot & Garonne is reputed for its fruit and vegetables, notably plums and tomatoes. In the south, the department of les Landes is France's largest forested area, and boasts over 100 kilometres of fine sandy beaches
Driving times for this area:
6 to 12 hours from Calais or Lille under normal driving conditions.
Best access routes from UK, Belgium or Holland:
Western channel crossings to Roscoff, Cherbourg or Caen. From Calais, motorway via Rouen and Orleans.
Regional airports:
Nantes, La Rochelle (Charente Maritime) , Bergerac (Dordogne) , Bordeaux (Gironde), Poitiers, Limoges.
For airlines serving this region, check out full details here:
Flights to southwest France
Regional information:
The Loire Atlantique and Vendée are part of the
Pays de la Loire
region.
Deux Sèvres and the Charentes are in the
Poitou-Charentes
region.
The remaining departments are part of the
Aquitaine
region.
Main cities in this area :
Nantes, St. Nazaire, Les Sables d'Olonne,
Poitiers
, Niort, Périgueux, Angoulême,
La Rochelle
, Bordeaux.
Other attractions
.
The
Futuroscope

,
(near
Poitiers
) and
Puy-du-Fou
(Vendée) theme parks
Official regional tourist site
Visit Poitou Charentes
► Click on any link in the list for a
detailed description of the property
, with photos and prices
Gites in other areas of France:
Select an area on the map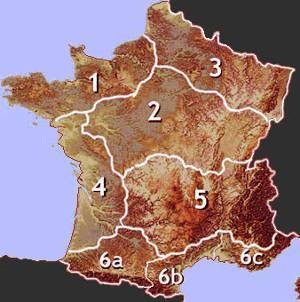 or choose a region