Traditional gites in Gascony
Gascony is not a territorial division of modern France; it was a historic principality in the Middle Ages, and later became part of the Province of Guyenne. Generally speaking, it includes land southwest of the river Garonne, excluding the Béarn and the Basque country. Most of historic Gascony now lies in the Midi-Pyrenees region (this page) , a part of it in Aquitaine.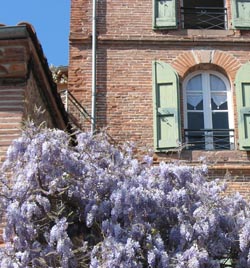 Travelling to southwest France
Driving times for the Midi-Pyrenees area and southwest France
10 to 14 hours from Calais or Lille under normal driving conditions.
Best access routes from the UK, Belgium or Holland:
Western sector - motorways via Orleans
Eastern sector: motorways via Dijon and Lyons, or Orleans and Clermont-Ferrand.
Regional airports:
Toulouse - Blagnac, Lourdes, Pau, Biarritz , Rodez
Peripheral airports
: Montpellier, Carcassonne, Nimes,
Perpignan, Bordeaux.
Gites in other regions of France
Gite owners :
Add your self catering holiday accommodation to Gitelink France: Gitelink is a valuable window for owners offering direct-rental gite accommodation or b&bs in France

For further information in English, check out our gite-owners page
Ajouter votre site sur Gitelink France:


Gitelink France est une vitrine Internet efficace pour la promotion internationale de gites et de lchambres d'hôtes en France.
Voir page annonceurs.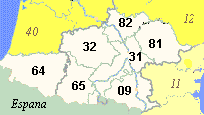 Area 6a. Southwest France -
Western and central Pyrenees, Gascony & Tarn
This sector includes the following French departments /
09 Ariège, 31 Haute Garonne, 32 Gers, 64 Pyrénées Atlantiques, 65 Hautes Pyrénées, 81 Tarn, 82 Tarn et Garonne.
Includes historic regions of
Béarn, Basque country, Armagnac & Gascony
.

Site en français

Site in English
Website auf deutsch

Website in nederlands
Enlaces en español.
The most recent additions
Gites, listed by department
- Departments are listed in random order
Gites in the Gers 32
Gites in rural Gascony 32 Four gites sleeping from 2 to 13 visitors. Situated in a converted barn, the gites have been completely refurbished to the highest standard. Our 5 acres are surrounded by fields of vines and colourful sun flowers.
Gites in Pyrénées Atlantiques and Hautes Pyrénées - 64 and 65
Western Pyrenees - Aas

64

Traditional stone house for 4 -6 in tranquil mountain setting close to the Pyrenees National park south of Pau. Fantastic mountain views - skiing, hiking, cycling.
At the foot of the Pyrénées

65

- Beautiful accommodation with large pool and gym, created from traditional farmhouse and barns. Fine views over the Pyrenees.
Gites in the Tarn - 81
Rural gites near Lautrec 81 A gite for 2 and a gite for 4 ideally located for lovers of the countryside. A short stroll leads to circular walks and cycling trails linking local towns between Castres and Albi.
Three gites near Castres

81

- 17th century farm with large pool in peaceful wooded valley: 4 bedroom farmhouse linked to 2 bdrm grange (can be let as one large property) and 1 bdrm cottage.

In the depths of rural Tarn 81 - Peaceful, comfortable family home in beautiful open countryside, near River Tarn, Albi, Millau, Carcassonne. Great walking, cycling, horse riding, canoeing.
Gites in Ariège - 09
Gites in Tarn et Garonne - 82
Near Saint Antonin Noble Val

82

Eco Gite for 4 + B&B. One of Sawdays top 20 most chic. Clean, bright rooms,long views, beautiful rural area. 75 minutes Toulouse airport.
Hilltop gites with pool near Agen 82 Hamlet with 4 gites each with fully fitted kitchen, comfortable furnishings, secluded well-established gardens with patio furniture. Different capacities: 2 bedrooms, 3 bedrooms , 4 bedrooms or 6 bedrooms.
Gites in Haute Garonne - 31
Gite with pool near Tarbes 31 -

Pyrenean idyll, stunning mountain views. Beautifully restored

self contained

cottage, all mod cons, free WiFi. Peaceful location, Toulouse and Pau airports 1 hour.
Gites in the Lot - 46 - and Aveyron - 12