Brittany's climate and weather
In terms of
climate
, Brittany is warmer and drier than the south of England, particularly in summer. The south coast of Brittany can be scorching in July and August, if the weather conditions are right. However, being in the north western part of France, the weather can also set in cloudy and wet at any thime of the year, just as it can in Devon or Cornwall. The Finistère area of western Brittany tends to have the coolest weather in summer, while the south coast of Morbihan, benefiting from a sunny microclimate, is the warmest. In winter time, Brittany benefits from a remarkably mild climate, particularly in the extreme west where frost and snow are relatively rare. Nonetheless, if a cold winter wind is blowing from the east, temperatures can fall to -5° or below even in Brest.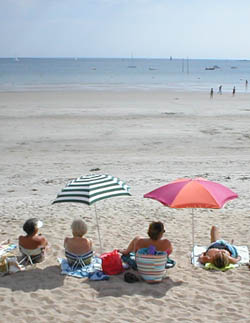 A beach in the Morbihan
In terms of
average annual temperature
, Vannes, in the Morbihan, is two degrees warmer than Saint Brieuc, in the Côtes d'Armor, due notably to the fact that the south of Brittany gets more sunshine. Conversely, as far as sea temperatures are concerned, the waters of the north coast are one or two degrees warmer on average than those on the south coast, on account of the Gulf Stream which flows up the English Channel, but not so much into the Bay of Biscay. The mildness of the climate has been a strong factor in the development of tourism in Brittany, but also for the region's agricultural sector. Nurseries growing plants under glass or in open fields provide early crops for the French market and for other parts of Europe, particularly with crops that are not heavily exported from the warmer areas of southern Spain.
Exposed to the
Atlantic airstream,
Brittany gets quite a lot of windy weather, making it particularly popular with sailing enthusiasts. Many of France's most famous yachtsmen, such as Eric Tabarly, have hailed from Brittany, and yachting is a major tourist activity around all round the coast. On occasions however, yachtsmen are advised to moor their craft in the region's many sheltered anchorages or harbours; when the Breton coastline is in the throes of a major Atlantic storm, with waves of up to 30 feet crashing on the rocks and the sea defences, thoughts go out for those in peril on the sea. Almost every year, the media report the loss at sea of Breton fishermen .
Brittany average temperatures:
| | | | | |
| --- | --- | --- | --- | --- |
| Towns | January | April | July | October |
| Rennes | 8 | 15 | 23 | 17 |
| Brest | 9 | 13 | 20 | 16 |
© Gitelink.com

A
Gitelink
guide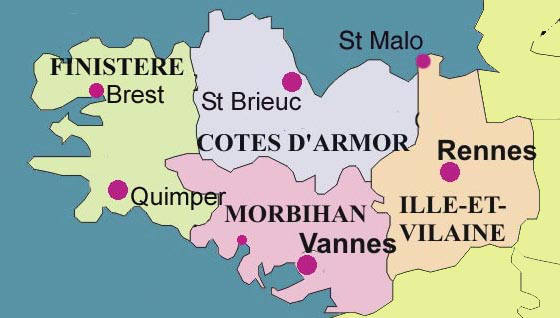 Selected places to stay
What better way to soak in the true flavour of Brittany, than by staying in one of the region's many gites villas or country cottages - many with English speaking owners
►
Cotes d'Armor and Finistère
areas
►
Morbihan and Ille et Vilaine
areas

or check out Brittany gites on the
Brittany gites map
Book directly with owners
for best rates, peace of mind, and no extra fees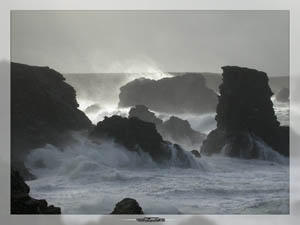 Atlantic storm
All texts © Gitelink.com.
Photos on this page:

Photo top of page by Sofie Layla Thal