Traditional Spanish accommodation in Andalucia
Quality holiday cottages & B&B, traditional casas rurales and villas
les gites ruraux, chambres d'hôte et locations en Andalousie et Canaries
CA : Cadiz (Cadix) province - GR : Granada province -
MA : Malaga province - CO: Cordoba province
Rural accommodation in the Canaries:
Andalucia Bed and Breakfasts / les chambres d'hôtes
Flying to Andalucia
Andalucia is
very
well served by scheduled flights from Britain and not just by Ryanair and Easyjet. Bearing in mind all the extras charged for by some airlines (hold luggage, coffee, credit-card charge, etc.) , you may get
better rates
from an airport nearer your home by checking out some other airlines with flights to Andalucia. Check out
Flybe
Jet2,
, or even British Airways.
Driving to Andalucia
By road : See
Driving through France to Spain
and
Driving in Spain
Owners - add your website to Gitelink España:


Announce your property on Gitelink Spain. List your property directly or through your page on one of the online booking sites partnered with Gitelink.com. Gitelink is a selective directory, listing only attractive traditional or traditional-style holiday rental accommodation. To submit your property for approval, contact us by email. Click here to email
Añadir su sitio web :


El directorio Annuaire Gitelink España permite a los propietarios de cortijos rurales, haciendas y fincas con caracter individual promover sus viviendas directamente sin intermediario en los mercados inglés y francés. Es esencial tener un sitio web con informacion en inglés o en francés.
Haz clic aquí para enviar un email
Copyright Gitelink.com 2007-2020


► Return to
Gitelink España
► Go to
Gitelink France
Gitelink
is a fully independent directory of selected traditional accommodation to let in Spain, casas rurales, rural villas and bed and breakfast, fincas, gites and rentals to rent directly from their owners, Properties are presented by their owners on individual websites.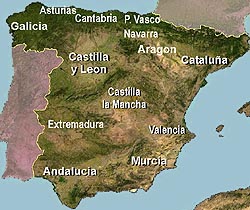 Traditional gites and holiday rentals in Spain
Best rates on holiday rentals in Spain
-
With Gitelink España,
book directly with owners
, or through booking sites that do
not
add extra booking fees, administrative charges or credit-card charges. Click the links for full details and photos or each gite listed

Key to listings:
Website in English Site en français
Website auf deutsch Website in Nederlands
Gitelink España - Andalucia
and the Canary Islands
Andalucia in brief
Andalucia is the southernmost region of continental Europe. While its once-beautiful coastline has been largely massacred by often uncontrolled property speculation and intensive agriculture (la "plasticultura"), inland, and often still quite close to the coast, Andalucia remains a magnificent region of hills and plains, with some of the richest cultural heritage in Spain. This was the last European fief of the Moors, and "Al Andalus" boasts some of the finest historic vestiges of
Moorish culture
in the Mesquita at Cordoba and the Alhambra at Granada. The mountains of Andalucia, notably the Sierra Nevada, offer great opportunities for hiking and other outdoor activities, specially in Spring and Autumn when the rest of Europe feels distinctly cooler.
A guide to the regions of Spain
L'Andalousie en bref
L'Andalousie est la région la plus méridionale de l'Europe continentale. Alors que sa côte, autrefois magnifique, a été très largement défigurée par la spéculation immobilière des 40 dernières années, ainsi que par l'agriculture intensive sous plastique, l'Andalousie reste une très belle région de plaines et de montagnes, avec un des plus riches patrimoines culturels d'Espagne. Ce fut le dernier bastion en Europe des Maures, et l'Andalousie offre à ce jour quelques uns des plus beaux monuments historiques mauresques, notamment la mosquée de Cordoue et le palais de l'Alhambra à Grenade

Texts & photos © Gitelink.com.unless otherwise indicated