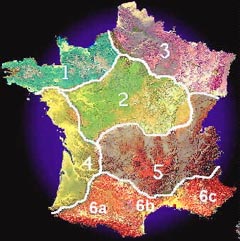 Stay in a French château or manor house
Brittany - between Tréguier & Pamipol 22 + Troezel Vras, a 17th century manor offering B & B and evening meals; 5 minutes from the sea, and just off GR 34 long-distance footpath..

Manoir de Troezel Vras (XVII°), Chambres de caractère avec table d'hôtes, à 5 minutes de la mer et à deux pas du GR 34..

New !

Brittany manor gite

22

Well equipped holiday cottage in Central Brittany. Part of 15th Century manoir, tastefully renovated preserving original features. Original wooden beams, huge stone fireplace .

Gite bien équipé au dentre de la Bretagne, attenant à un manoir du 15° s, rénové avec goût en gardant le cachet de l'ancien. Poutres apparantes, grande cheminée en pierre.
►Area 2: Loire Valley, Paris region and Burgundy -
Pays de Loire, Ile de France, Bourgogne
This is central France to the south of Paris, covering the regions:
Pays de la Loire, Centre, Ile de France, Bourgogne/Burgundy
Attractive B&B near Orleans

45

: + On the banks of the Loire, and with easy access to Paris and Burgundy, B&B in a Loire valley country house, for a relaxing and quiet stay.

Dans un domaine sur les berges de la Loire entre Orléans et Sancerre, facilemen accessibles depuis Paris, chambres d'hôte raffinées pour un séjour au calme.
►Area 3: North and Northeast France - Le nord est, Champagne, Lorraine, Alsace
This is northern France from the Channel coast to the Rhine, covering the regions :
Nord Pas-de-Calais, Picardie, Champagne-Ardennes, Lorraine, Alsace.
Chateau in Champagne

51 +

Gite and B&B at beautiful Chateau set in parkland with private lake, in a quiet village within walking distance of restaurant.

Gite et chambres d'hôtes dans un beau château champenois près de Chalons en Champagne; parc, lac privé, restaurant à proximité.
This is the low-lying area from the Loire estuary to the Spanish border:
Pays de la Loire, Poitou-Charentes, Aquitaine (including the Dordogne)
Manoir La Betoulle + Charente/Limousin border. Set in 90 acres of unspoilt countryside, 2 luxurious gîtes sleeping 2 and 5 with huge secluded pool and tennis court.

Entre Charente et Limousin, sur un domaine rural de 40 hectares, deux gîtes grand standing pour 2 ou 5 personnes; grande piscine et tennis.
►Area 5: Upland France - Massif Central, Alpes, Jura
This is the large hilly and mountainous area comprising most of inland southern France:
Limousin, Auvergne, Languedoc-Roussillon, Rhone-Alpes, Franche-Comté
►Area 6: the South of France, from the Pyrenees to the Riviera -
Midi-Pyrénées, Languedoc, Paca
Includes Gascony, the Mediterranean coast and its hinterland :
Midi Pyrenees, Languedoc Roussillon, Provence-Alpes-Côte d'Azur
Gascony château gites 32 + Magical 35 acre historic Chateau estate just outside Auch, Gascony. Five 17th Century self catering cottages accomodating from 4 to 8 people.

Cinq gites du 17° siècle, pour de 4 à 8 personnes, sur le domaine d'un château classé monument historique, près d'Auch. Piscine chauffée, spa, sauna
► Return to
Gites in France
Stay in a French chateau.
The page you are now looking at lists a selection of French chateaux and manors offering self-catering rental accommodation and/or Bed and Breakfast.
For more holiday properties in the six Areas of France, including country cottages, villas, bed and breakfasts and other selected rental properties, just click the links below. Gitelink properties are chosen with attention being paid to the quality of the accommodation, and good value for money.


Gites throughout France - directly from the owners:


Select an area on the map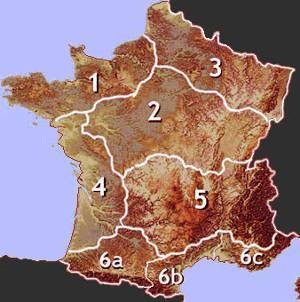 Or chose from a list
Copyright Gitelink.com 2003 - 2021